Feature Image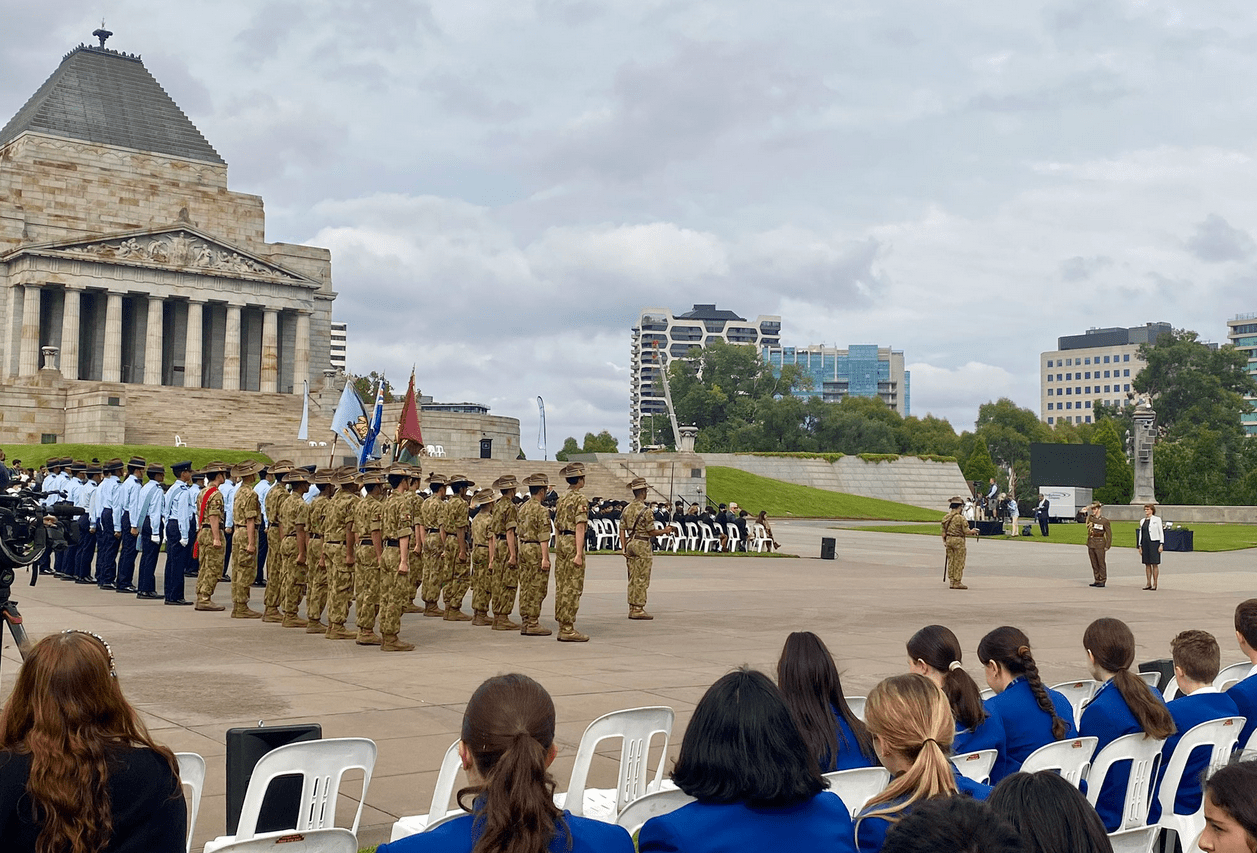 Introduction
The Governor was represented at the 90th Legacy ANZAC Commemoration ceremony for students at the Shrine of Remembrance. 
Body
In the lead up to ANZAC Day, the Governor was represented at the the 90th Legacy ANZAC Commemoration ceremony for students at the Shrine of Remembrance by Lieutenant Colonel Daniel Strack, one of the Governor's Honorary Aides-de-Camp.  During the ceremony, assembled students listed to an address recorded by the Governor for the occasion.  
Founded in 1923, Legacy is dedicated to caring for the families of deceased veterans. Today, Legacy works to provide support to 115,000 widows and 1,900 children. They rely on volunteers from the community to assist them in their important work.  
The Legacy ANZAC Commemoration is held annually, and aims to foster an awareness of the meaning of ANZAC Day in school children. The ceremony was attended by over 2000 students from schools across Victoria, and featured performances by the MacRobertson Choir, and the Melbourne High School Band.  Speaking during the service, the Governor paid tribute to those who served during the First World War: 
"Today, 107 years later, we remain bound to them in ways that they could never have imagined as they stepped into that unknown.  Our stable democracy and the freedoms we hold dear were protected and promoted by their sacrifices. Their courage in the face of adversity, and the way they looked out for each other, still imbue our national psyche. We are proud of those very characteristics – of Aussie grit and Aussie mateship." 
During her address, the Governor drew links between those who served in Gallipoli and the way we live our lives today: 
"Their commitment to service has also become a part of us, even beyond the outstanding service and sacrifice of our defence men and women. A selfless response in a time of crisis permeates our daily lives here at home. You have seen it first-hand amongst yourselves, your families and your communities, as so many have responded selflessly to help out in bushfires, the pandemic and right now in floods. So, today, when we look back more than 100 years, we are not commemorating some distant event consigned to history. We are remembering the sacrifices made then and since, the lives lost, and the examples set that directly affect our lives today.  We are reflecting on our gratitude for the service given by all Australian Defence Force members, past and present." 
Learn more about the work of Legacy here, and read the Governor's full address at the commemoration here.