Feature Image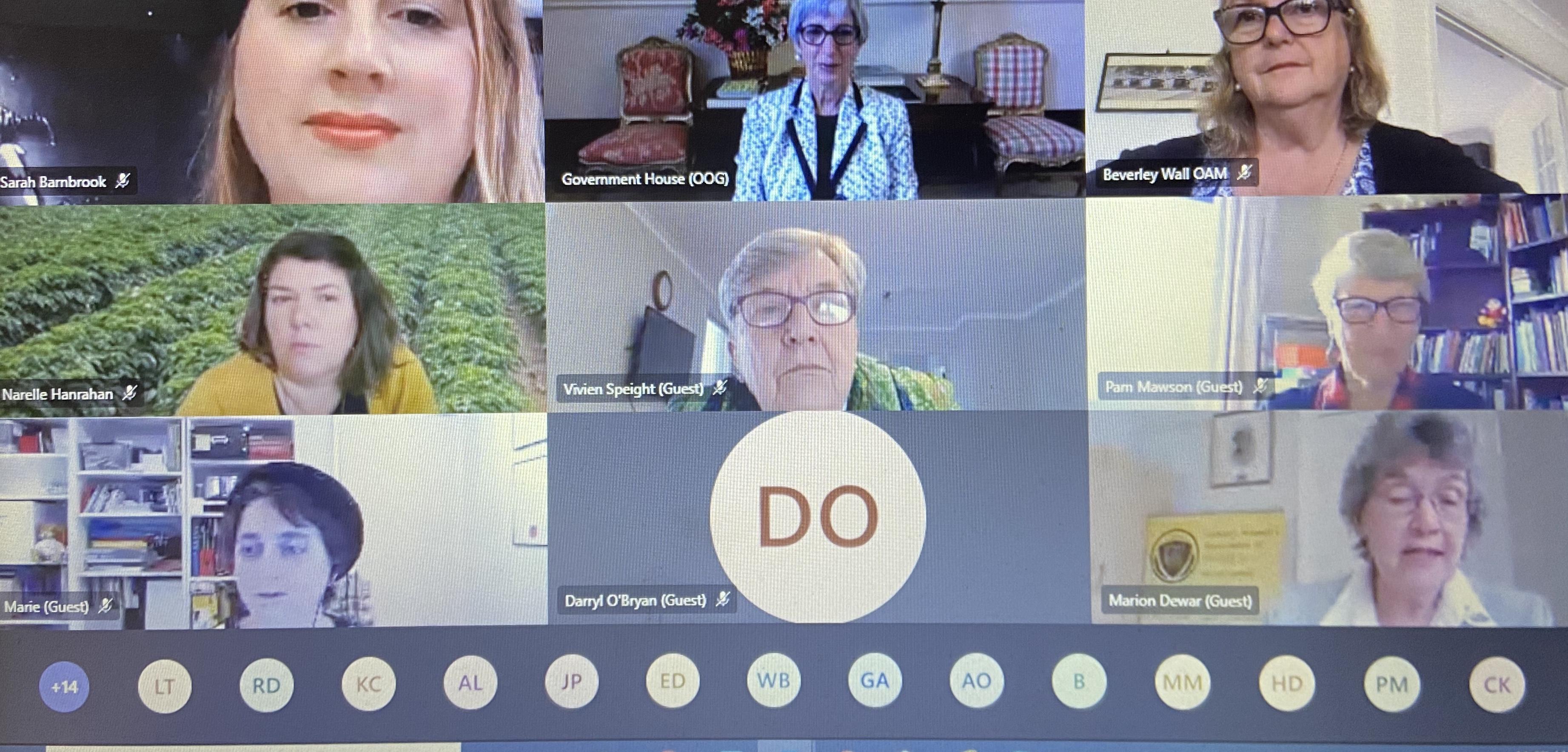 Introduction
To mark the International Day of Rural Women, today, as Patron, the Governor hosted a virtual reception for members of the Country Women's Association. 
Body
The Country Women's Association of Victoria was formed in 1928, and today boasts more than 5,000 members. Each member belongs to one of 300 branches across Victoria, which maintains its own program to meet the needs of the local community.  The CWA of Victoria Inc. is an organisation of women supporting women, children and families right across Victoria.  To learn more about the CWA, visit their website.
The focus of International Rural Women's Day this year is building rural women's resilience in the wake of COVID-19, and this reception was an opportunity for the Governor to hear about some of the great work that the CWA have been doing to support their communities during, and in the aftermath of the summer bushfires and throughout COVID-19. Speaking to assembled guests, the Governor noted the important leadership role played by the CWA in advocating for women, and the tireless contribution local chapters make in supporting and developing their communities.  
The Governor was very pleased to hear from Marion Dewar, President, and Pam Mawson, Deputy State President, of CWA Victoria, who noted the significant association between the CWA and Office of the Governor, beginning with the founding of the CWA Vic, when Lady Somers CBE, wife of then Governor Lt. Col. The Right Hon. Arthur Herbert Tennyson, the Lord Somers, KCMG DSO MC, attended the first meeting of the CWA Vic to elect office bearers in 1928.  Marion and Pam discussed how CWA have been raising money to provide household grants which are distributed to families and households during difficult times.  Assembled guests also heard from Marie Vassallo, CWA State Treasurer, and Judy Pymer, Group President of the West Wimmera Group. Marie and Judy explained how each branch has had to innovate and adapt – and have found new ways to connect with their members, and the wider community.  Running online raffles and online cooking classes have opened up opportunities to connect with and reach a larger audience, and branches have utilised social media as a way of broadening their reach. Some of the many projects the CWA groups have worked on include sewing face masks for the homeless and the vulnerable, as well as sewing scrubs for local hospital staff.  During winter, members worked on knitting beanies and scarves for those in need, as well as providing welfare checks and food deliveries to those within their communities who may be particularly vulnerable and isolated.
The Governor and Mr Howard are looking forward to being able to host receptions in person at Government House Victoria again soon, however are relishing the opportunity of finding new ways of connecting with Victorians from all over the State virtually. To find out about how your organisation can connect with the Governor and Mr Howard during this time, visit this page.