Feature Image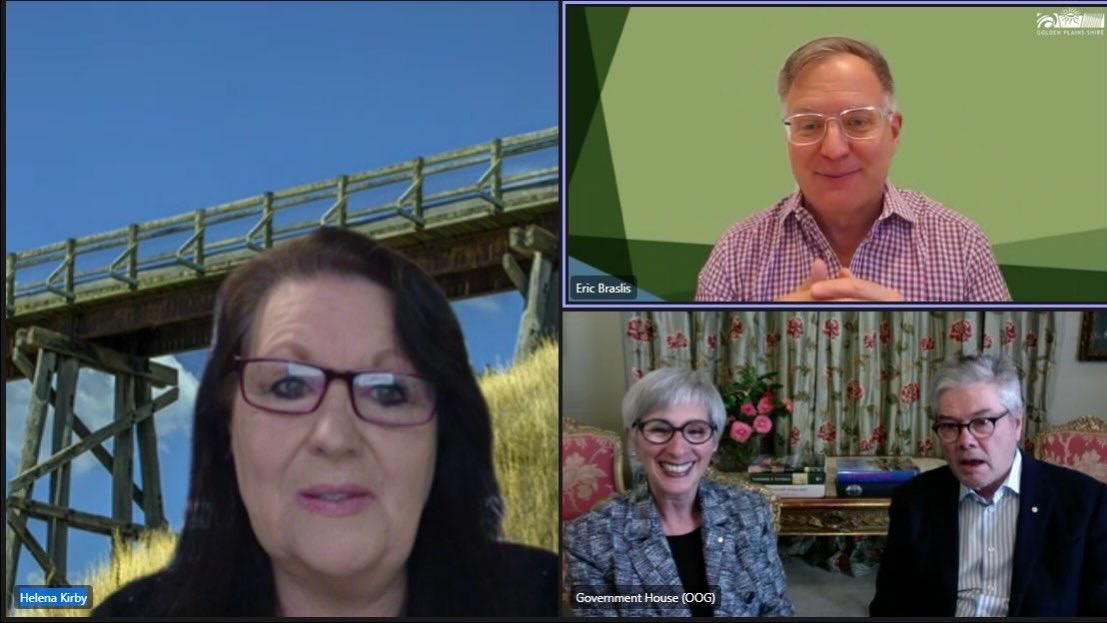 Introduction
This week the Vice Regal program had a particular focus on regional Victorian communities. 
Body
The Governor in Schools program continued this week, with the Governor and Mr Howard meeting virtually with VCE Legal Studies students from Grovedale College.  Grovedale is located in Geelong, and the College has around 800 enrolled students.  During the session, the Governor and Mr Howard answered students' questions and spoke about the role of the Governor within our system of constitutional government, and the modern role of the Governor. 
This week the Governor also met with the Minister for Regional Development and the Minister for Agriculture, the Hon Mary-Anne Thomas MP. The Governor and the Minister spoke not only about the current challenges that regional Victorians face, but also the opportunities and innovations emerging in regional and rural Victoria. 
The week concluded with a virtual regional visit to the Golden Plains Shire Council, where the Governor and Mr Howard met with members of the local community.  Golden Plains Shire is situated between Geelong and Ballarat, and takes in the major townships of Bannockburn, Smythesdale, and Meredith. 
During the virtual tour, the Governor and Mr Howard were given a briefing on the local area by the Mayor and Council CEO, as well as having the chance to speak to Judy Croagh, of Golden Plains Pork, a local business which is focused on raising pigs in an environmentally sustainable manner.  The Governor and Mr Howard also met virtually with Barry Wemyss from GP Arts Inc. GP Arts Inc is a not-for-profit community group which supports local artists and has members with many diverse artistic interests, including visual arts, music, film, and literature. 
Among other virtual meetings this week, the Governor spoke with the Principal and Vice Principal of Melbourne's Al-Taqwa College, to hear about the College's recent experiences of the COVID-19 pandemic, and to learn more about the ways the local community has come together to support those affected.   
2021 marks the 175th anniversary of the Royal Botanic Gardens in the heart of Melbourne, and during the week the Governor and Mr Howard were able to attend a virtual reception, at which the Governor launched Wonder: 175 Years of Royal Botanic Gardens Victoria, a book published to commemorate the anniversary. Learn more about the Royal Botanic Gardens Victoria, and Wonder, by visiting the RBG website.