Feature Image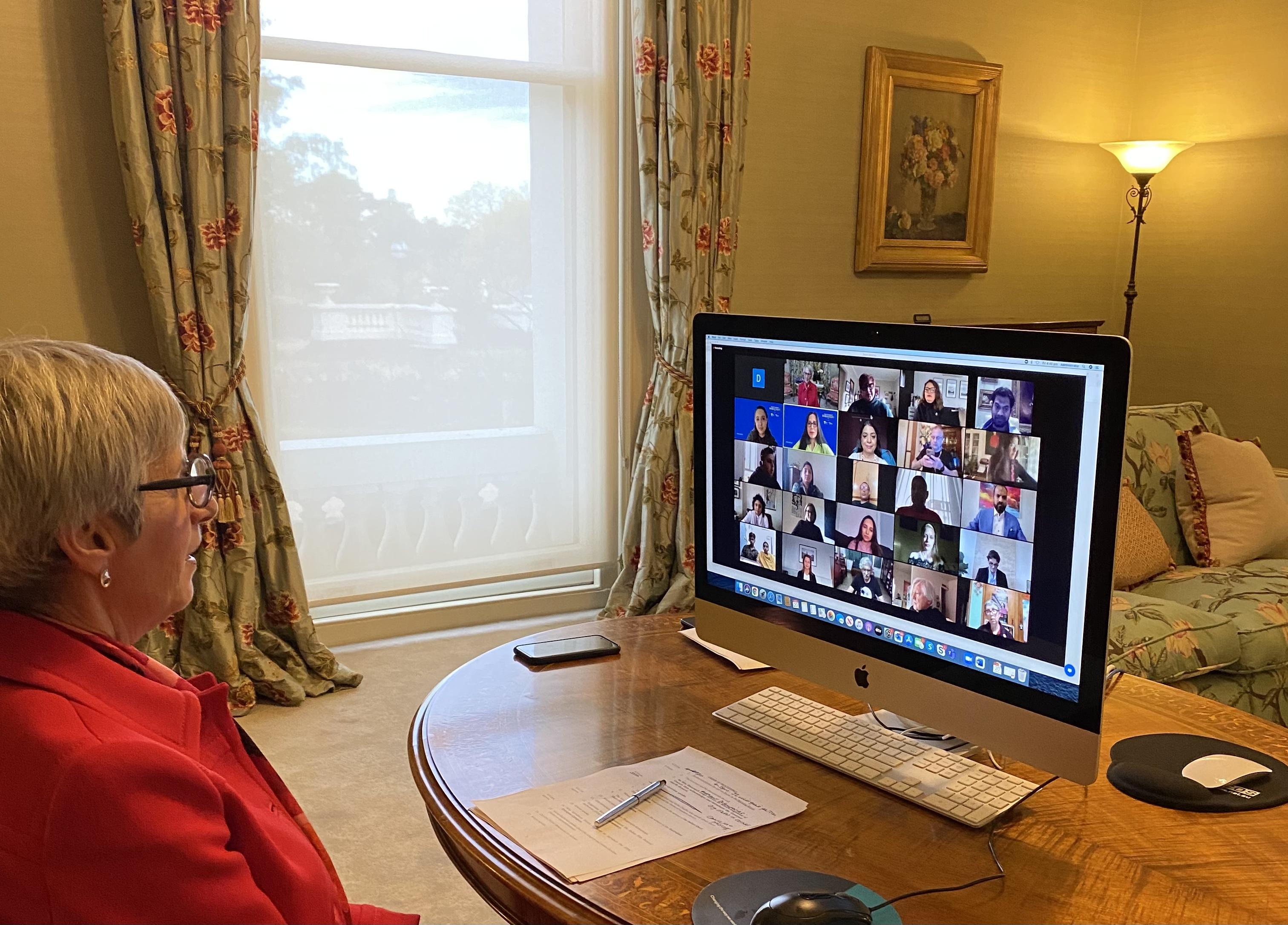 Introduction
This week the Governor continued to conduct meetings virtually, in line with the current health regulations. 
Body
As proud Patron of the Melbourne Symphony Orchestra - Australia's oldest symphony orchestra - the Governor was delighted this week to meet virtually with representatives of the MSO, including Managing Director Sophie Galaise, and CEO David Li AM, and for the chance to welcome the new Chief Conductor Jaime Martin.  The Governor enjoyed the opportunity to hear about the ways the Melbourne Symphony Orchestra is working to engage virtually with the Victorian community during what is a challenging time for so many in the arts industry. The Governor was also able to hear about the impact of the MSO's vaccination message which featured many of Victoria's best-known and most-loved performers. Zoos Victoria represents some of Victoria's best-loved attractions, and the Governor's meeting with Rebecca McKenzie, Chair of Zoological Parks Victoria, was an opportunity to learn about the ways which the much-loved Zoos in Victoria are working to maintain connection with Victorians during this time. The Governor was also able to meet with Holly Ransom, Founder and CEO of Emergent, to hear about the programs and projects the organisation is working on and to get an update from one of Victoria's dynamic young entrepreneurs   
A vital part of the Governor's role is international engagement on behalf of the State [link to role of the Governor]. The Governor this week continued to build upon Victoria's international relationships by meeting virtually with Mr Kuncoro Waseso, the new Consul-General of Indonesia in Victoria.  The relationship between Indonesia and Victoria is an important one, as Indonesia is Victoria's ninth largest merchandise export market, and is the third largest export market for Victorian food products. This week the Governor also met with Caroline Edwards, one of two newly appointed Commissioners to the Americas.  Victorian Commissioners work to forge strong relationships with government and business around the world, to further Victoria's interests internationally by attracting trade partners and promoting investment opportunities. 
The week concluded with the Governor attending the Indian Film Festival of Melbourne's virtual award ceremony and presenting some of the major awards.  The Indian Film Festival of Melbourne is the largest festival of its kind in Australia, and celebrates Indian filmmaking in all its forms, running online from 15-30 August.  The annual awards recognise excellence in Indian cinema, and, among other awards, saw Soorarai Pottru presented with Best Film, and Anurag Basu presented with the Best Director award for Ludo.