Feature Image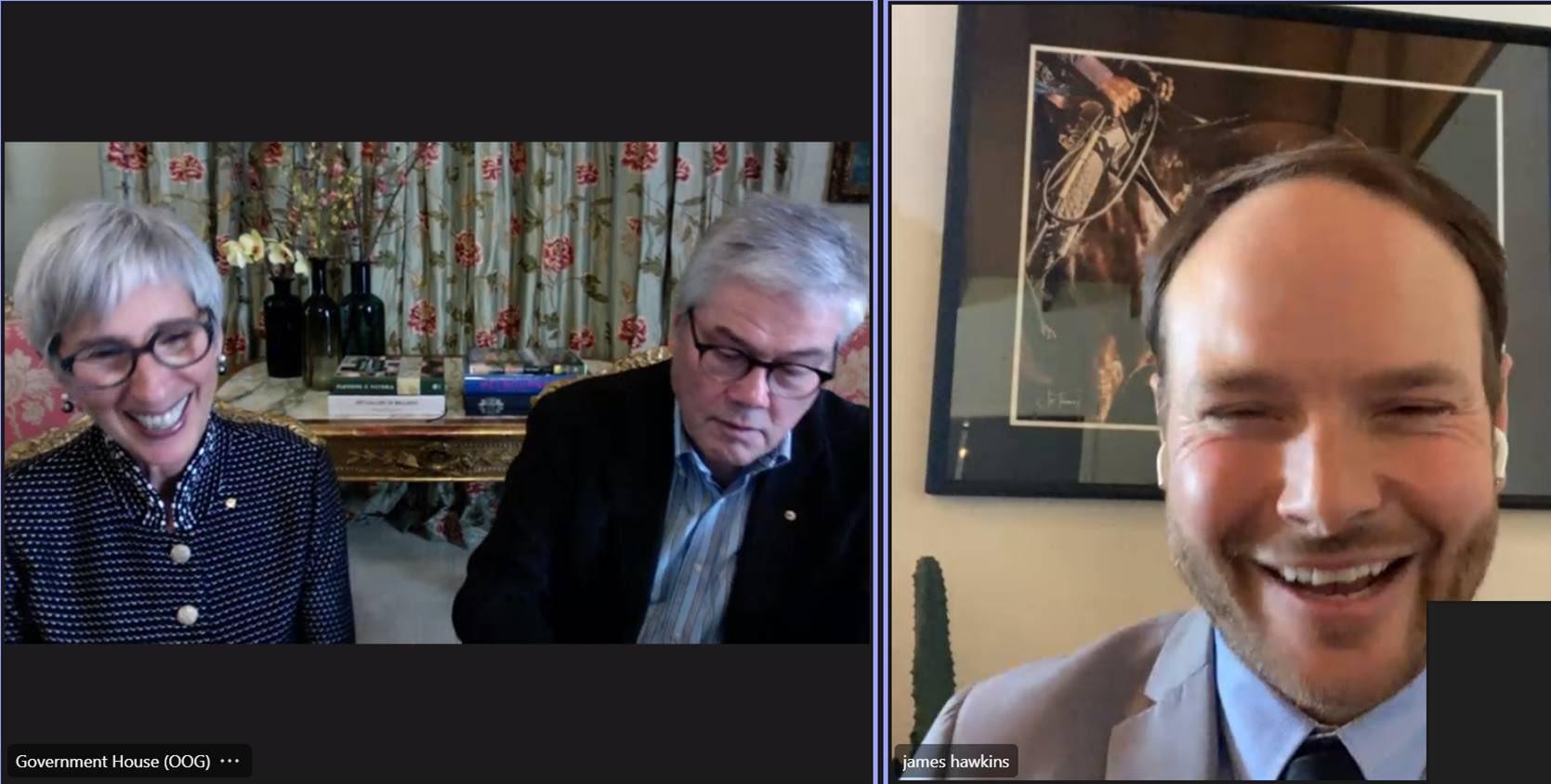 Introduction
The Vice-Regal program this week had a focus on connecting with Victorian communities. 
Body
The Governor and Mr Howard have this week continued to undertake the Vice-Regal program virtually, and have had the chance to meet representatives from many parts of the Victorian community.  The Governor in Schools program continued this week, with VCE Legal Studies students from Mt Scopus Memorial College having the chance to ask the Governor and Mr Howard questions, and hearing about the modern role of the Governor. 
The Governor and Mr Howard also hosted a virtual event with members of the Portland community. Members of the Portland chapters of the Mission to Seafarers and Probus had the chance to speak with the Governor and Mr Howard, to ask questions about the Governor's role, and to share information about local initiatives and projects. 
The Governor held a range of virtual meetings this week, including with Nigel Warren, one of Victoria's new Commissioners to the Americas; Richard Goyder AO, Chairman of the AFL Commission; and Lyn Swinburne AO, Chair of the Royal Women's Hospital. The Governor's meeting with Ms Swinburne was an important opportunity to hear about the particular challenges of the health sector including in the context of the coronavirus pandemic, and the ways which the Women's is dedicated to providing the highest-level of care for Victorian women. 
The Governor and Mr Howard also met virtually with the Chair, Hang Vo, and CEO, Justine Dalla Riva, of the recently opened Victorian Pride Centre. The Centre is a not-for-profit organisation with a focus on celebrating, strengthening, and protecting equality, diversity, and inclusion. 
The week concluded with a virtual visit to the West Wimmera Shire, which extends along much of the South Australian border. The Shire takes in the towns of Kaniva and Edenhope, as well as much of the Little Desert National Park.  The Governor and Mr Howard met with members of the Council, as well as representatives of the local community, to hear about local issues, as well exciting local initiatives and projects.  The Governor spoke to the local newspaper, the West Wimmera Advocate, after meeting with Council and community organisations. Find out more about the West Wimmera Shire here.