Feature Image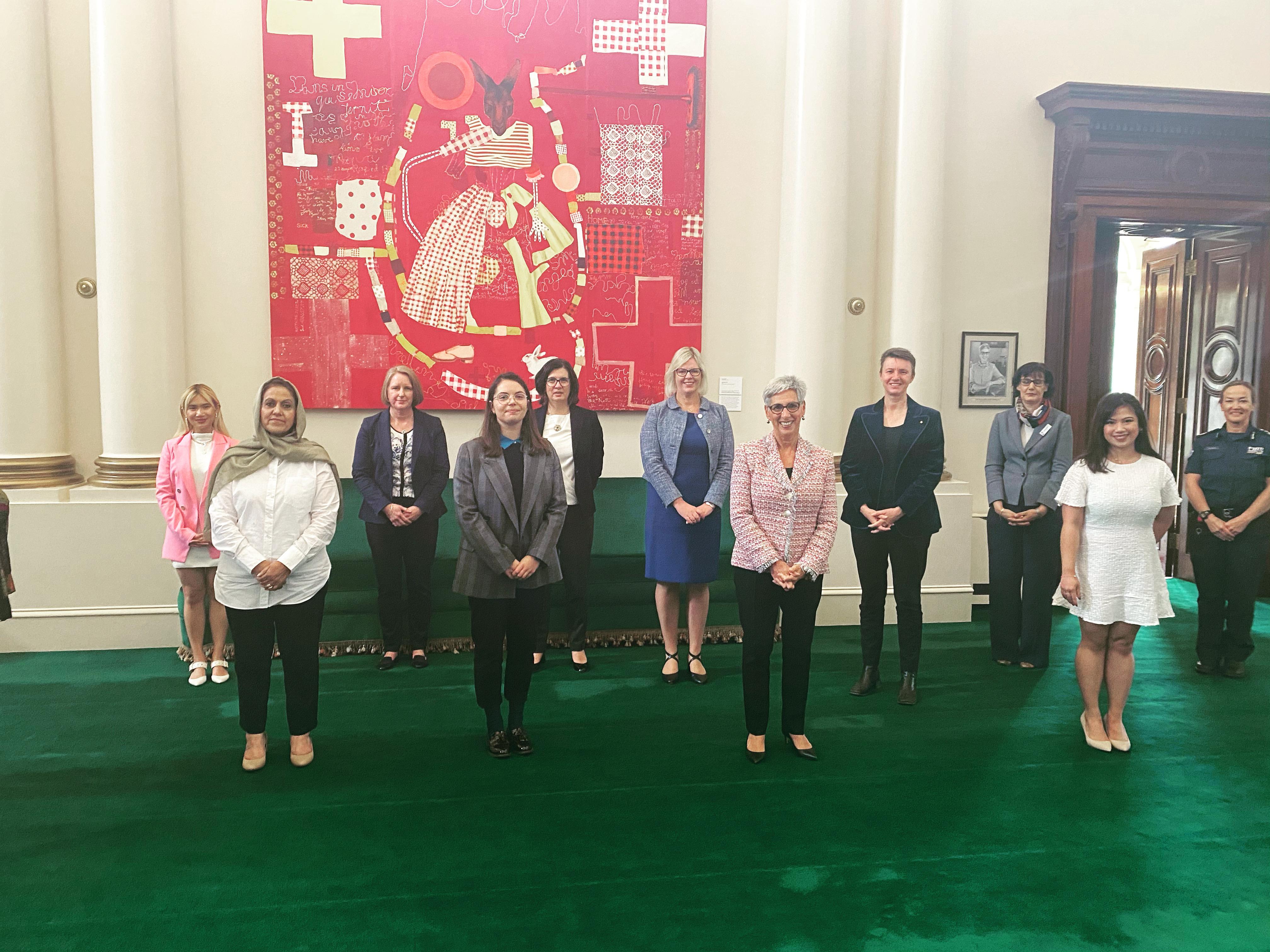 Introduction
Ahead of International Women's Day 2021, the Governor hosted a roundtable at Government House Victoria.
Body
Ahead of International Women's Day 2021, the Governor hosted a roundtable at Government House Victoria, inviting women with a range of different expertise to speak about the challenges faced during 2020. 
Among those who attended the roundtable were Afshan Mantoo, Founder and Chairperson of the Muslim Women's Council of Victoria  and Rebecca Scott, CEO of STREAT.
Afshan Mantoo has 30 years experience contributing to the advancement of culturally and religiously diverse communities in Victoria through the founding of sustainable and dynamic non-profit service-oriented organisations in the community and philanthropic sectors. Afshan holds the degrees of Bachelor of Education and Bachelor of Laws, and she was awarded a Government of Victoria Award for Excellence in Multicultural Affairs in 2008.  
STREAT's cofounder and CEO for the past 8 years, Rebecca Scott, has previously spent 2 years as Vice President at social enterprise KOTO and 10 years in management at the CSIRO. Since its inception in 2010, STREAT, a hospitality social enterprise, has grown into a portfolio of eight businesses, across which nearly 2 million customers have been served, and over 60,000 hours of training has been provided to over 900 young people.  Through STREAT, young people not only receive important training and vocational skills, but are also supported in many other ways, including assistance in finding stable housing, and improved mental health. 
Also participating in the roundtable were Belle Lim, President of the Council of International Students Australia and Dr Sonja Hood, CEO of Community Hubs Australia. 
Belle Lim serves as the National Women's Officer at the Council of International Students Australia (CISA), and in her role represents female international students studying in the tertiary sector in conferences, policy discussions, expert advisory groups and in the media. Belle has an honours degree in Pharmaceutical Sciences, and has also received a full scholarship at Monash University to undertake a PhD.  
Dr Sonja Hood is the Chair of McAuley Services for Women, an organisation which supports women and children who have faced family violence and homelessness to take control of their lives.  She has also been CEO of Community Hubs Australia since 2015, and in that time, she has focused on building a funding coalition of national, state and local governments as well as garnering philanthropy and business to continually grow the network across Australia.   Dr Hood has worked closely with the Office of the Governor of Victoria in her role with Community Hubs Australia, supporting the Governor's Peace and Prosperity Kitchen Garden Program, which provides a setting to help connect migrant and refugee women with other women.  Read more about that project here.