Feature Image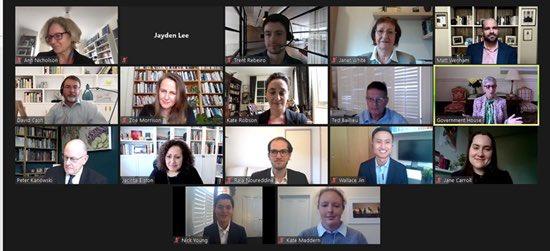 Introduction
The Vice-Regal program continued this week, as Victoria moves a step closer to COVID-normal.
Body
This week, the Governor had the opportunity to announce the 2021 Victorian Australians of the Year.  In what would usually be one of the highlights of the annual functions hosted at Government House Victoria, the Governor was very pleased to have virtually addressed the group, and announced the winners.  The group of recipients included Ms Donna Stolzenberg, Victorian Australian of the Year, a proud indigenous woman who is Founder and CEO of the National Homeless Collective, a grassroots organisation that helps people affected by homelessness, domestic violence and social disadvantage.  Ms Tayla Harris was announced as Victorian Young Australian of the year. A footballer, boxer, and Respectful Relationships Ambassador, Tayla is also an ambassador for Our Watch, an organisation working to preventing violence against women, and co-authored a book providing advice to young people on how to navigate social media and deal with online bullying. The Victorian Senior Australian of the Year for 2021 is Ms Bich Cam Nguyen. Ms Nguyen is Founder, CEO and Secretary of the Australian Vietnamese Women's Welfare Association (AVWA), and arrived in Australia with her family as a refugee in 1975. In 1983, Ms Nguyen formed the AVWA to help all Victorian residents of Vietnamese background.  Dr Kirby White, Founder of Gowns for Doctors, was announced as the 2021 Victorian Local Hero.  A GP in Bendigo, Dr White – together with a colleague – worked to develop a gown which could be laundered and re-used, after shortages during the COVID-19 outbreak.  
After an unprecedented AFL Grand Final weekend, where two great Victorian teams played for the 2020 AFL Premiership, the Governor had the chance this week to speak to the Presidents of both the Richmond Football Club and the Geelong Football Club. The Governor not only passed on her congratulations to the President of Richmond, and commiserations to the President of Geelong, but also enjoyed the opportunity to hear from both Presidents about the ways in which this most unusual AFL season played out, and the important insights which have been gained during the year.
The Governor this week also virtually opened the redeveloped Campbell House – the Junior School at Geelong College.  Geelong College was established in 1861, and is a Uniting Church coeducation day and boarding school with over 1400 students based in Geelong.   
The Governor and Mr Howard are looking forward to being able to welcome Victorians back to Government House Victoria next week, beginning a series of physically-distanced ceremonies to invest recipients of honours and awards in the Order of Australia.