Feature Image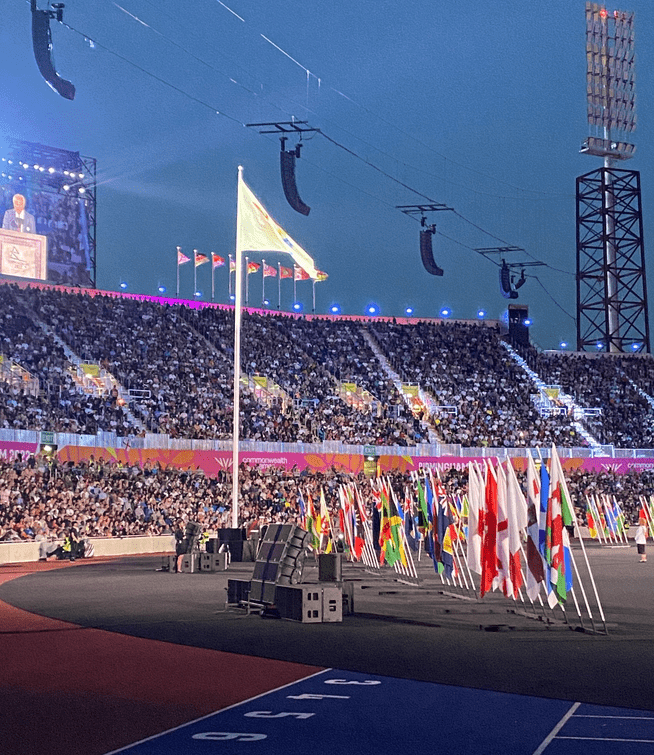 Introduction
The Governor recently returned from an official visit to the United Kingdom. The trip saw the Governor visit London and Birmingham, with the latter serving to celebrate the Birmingham Commonwealth Games and mark the official handover of the Games to Victoria in 2026. Learn more about the Governor's time in London here.
Body
The Birmingham Commonwealth Games took place from 28 July to 8 August 2022. It was the 22nd Commonwealth Games and the first time the event has taken place in the West Midlands. It saw athletes from 72 countries and territories compete in a range of sports including but not limited to aquatics, athletics, cycling, and gymnastics, as well as eight sports for para-athletes.
Victoria is set to host the next Commonwealth Games, which will take place from 17-29 March 2026, across four regional hubs in Ballarat, Bendigo, Geelong and Gippsland. As part of the official handover process the Governor, as Chief Citizen, participated in the Commonwealth Games Handover Ceremony at the Closing Ceremony. It officially marks Victoria's status as the host State in 2026.
Whilst in Birmingham, the Governor also hosted and delivered an address at a reception for Victoria's 2026 Commonwealth Games. It was an opportunity to thank Birmingham 2022 for their warm welcome and promote the Victorian 2026 Games.
The Governor also met with representatives from the Victoria 2026 organising committee, where Her Excellency received a formal update on the team's progress. As well, the Governor met with the Victorian Traditional Owners who participated in the Victoria 2026 Handover Ceremony, and Mr Andy Street CBE, Mayor of the West Midlands.
During the Games, the Governor had the opportunity to attend some events, including the netball final – which saw the Diamonds win Australia's 1,000th Commonwealth Games gold medal, over Jamaica. The Governor also attended the mixed synchronised 10-meter platform diving finals, with Australian athletes, Cassiel Rousseau and Emily Boyd, claiming bronze. The Governor was delighted to present the winning athletes with their medals.