Feature Image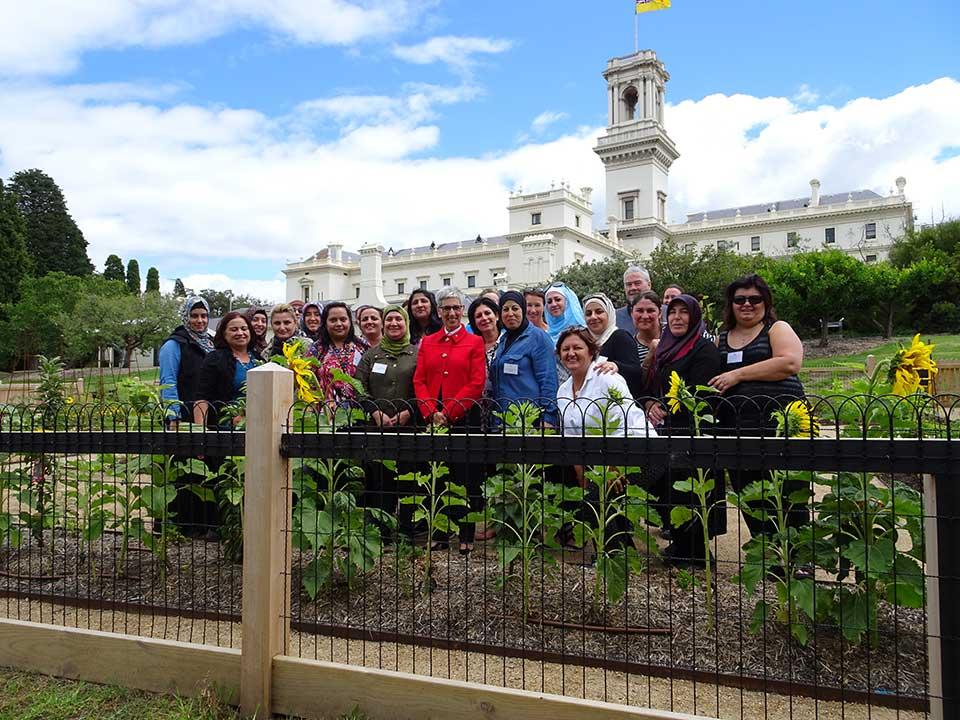 Introduction
The Governor and Mr Howard will welcome back to Government House participants in the Peace & Prosperity Kitchen Garden program during Term 2, 2022. 
Body
The Peace & Prosperity Kitchen Garden program works in conjunction with Community Hubs Australia, to welcome women from refugee and migrant backgrounds to participate in a weekly program in the Government House Kitchen Garden. The program aims to assist the women to make connections with others in their local communities, and form friendships and support networks.  
Three groups from the Wyndham Vale Community Hub will participate in the program during Term 2. Each program comprises of a tour of the State Apartments and the gardens, and includes a range of activities including flower arranging, gardening, and collecting produce from the Government House's Peace & Prosperity Kitchen Garden. In the past, participants have, amongst many other activities, cooked together, learned how to preserve lemons and make kokedamas. The participants in the program also meet with the Governor and Mr Howard to share their stories.  
During the Term 2 program, participants will learn about the variety of produce in the Kitchen Garden, and programs will conclude with a picnic lunch in the grounds of Government House. The program provides the opportunity to meet other women from diverse backgrounds living in the same area, and to converse about their shared loves of cooking, gardening and family.  
To learn more about the Peace & Prosperity Kitchen Garden program, read about previous programs here. 
In addition to the Kitchen Garden program, the Scarecrow program will resume in May with 50 students from Springvale Park Special Development School and Emerson School delivering scarecrows they have made for the Kitchen Garden. The visit also includes a tour of the State Apartments. Learn more about the Scarecrow program here.