Feature Image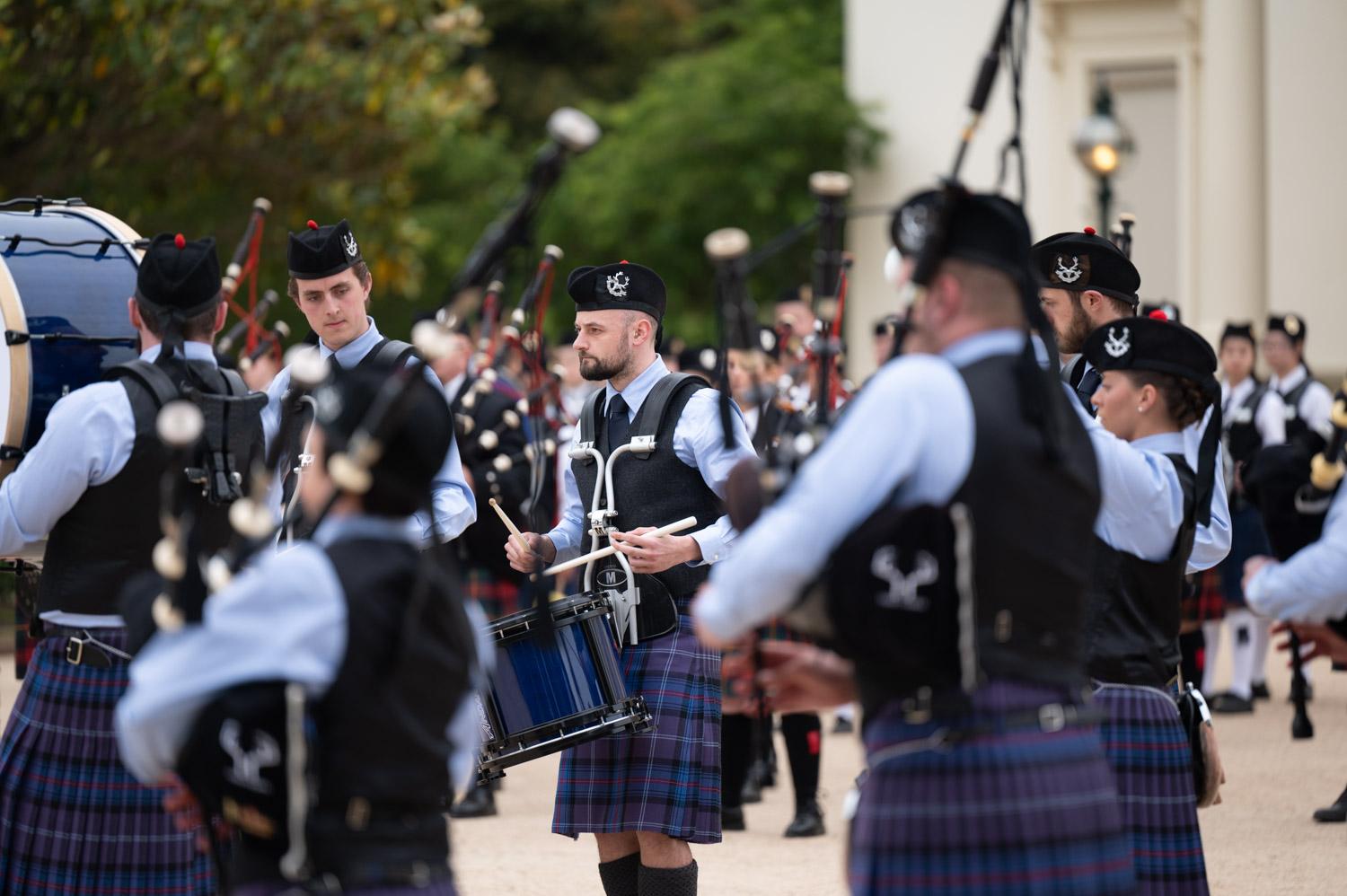 Introduction
The Governor and Mr Howard this evening hosted a performance by several of Victoria's renowned Pipe Bands, in the grounds of Government House. 
Body
Over 150 performers representing several of Victoria's Pipe Bands took part in the performance, which was held against the magnificent backdrop of Government House Victoria.  The many guests were treated to performances by several bands, including Haileybury Pipes and Drums, which was established in 1957.  The Haileybury Pipes and Drums are internationally renowned, after they were the highest-ranked international school band at the European Championships on a trip to Scotland in 2019. 
The Hawthorn Pipe Band was founded in 1914, and is one of Australia's leading pipe bands.  Hawthorn Pipe Band is the current Australian Champion, and they focus on the musical aspect of pipe bands, blending traditional and contemporary styles. 
Among other performers were the City of Melbourne Highland Pipe Band, one of Australia's oldest pipe bands, which celebrated its 120th anniversary in 2018.  The City of Melbourne Pipe Band performs regularly throughout Victoria at various corporate and community events, and its members represent a cross-section of the Victorian community. 
A highlight of the concert were the Pipes and Drums of the 5th / 6th Battalion of the Royal Victoria Regiment, first raised in 1899 as part of the Victorian Scottish Regiment, which sent forces to the Boer War.  The band regularly performs at a wide variety of civic occasions in Melbourne and throughout Victoria, including a performance at the 1956 Melbourne Olympic Games, as well as annual performances at the Remembrance Day and ANZAC Day commemorations. The Governor is the Representative Colonel of the Royal Victoria Regiment.  
This performance was part of the Governor's Performance Series, which aims to provide an opportunity for members of the Victorian public to visit Government House Victoria, its gardens and grounds to enjoy some of the many and varied artistic talents in Victoria. Visit this page to read more about the Governor's Performance Series.