Feature Image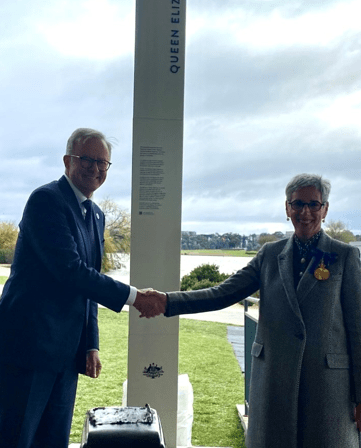 Introduction
Government House celebrates the Platinum Jubilee of Her Majesty Queen Elizabeth II.
Body
This year is Her Majesty Queen Elizabeth II's Platinum Jubilee, marking 70 years of service. The Governor and Mr Howard have celebrated this milestone in a number of ways across this Jubilee year.
In February, the Governor and Mr Howard hosted an event at Government House to coincide with the 70th anniversary of the actual date of The Queen's accession. Invitees included representatives of Victorian community organisations that have ties to The Queen of various kinds, such as those of which Her Majesty is Patron. At the reception, the Governor remarked that 'all can admire Her Majesty's commitment to service, her wisdom and good humour, and her leadership at home, across the Commonwealth and on the world stage for an historic 70 years.' Read more of the Governor's speech here.
Last week, in celebration of the occasion, the Governor and Mr Howard welcomed current and former members of the Australian Defence Force to Government House to plant descendant seedlings of the original Gallipoli Lone Pine.
The Governor and Mr Howard have also accepted invitations to community celebrations of the Platinum Jubilee, including the Governor reading a Lesson at the service at St Paul's Cathedral on 6 February 2022.
Finally, last weekend, in her capacity as Administrator of the Commonwealth, the Governor, accompanied by Mr Howard, participated in and spoke at the renaming of Aspen Island in Canberra as Queen Elizabeth II Island.