Feature Image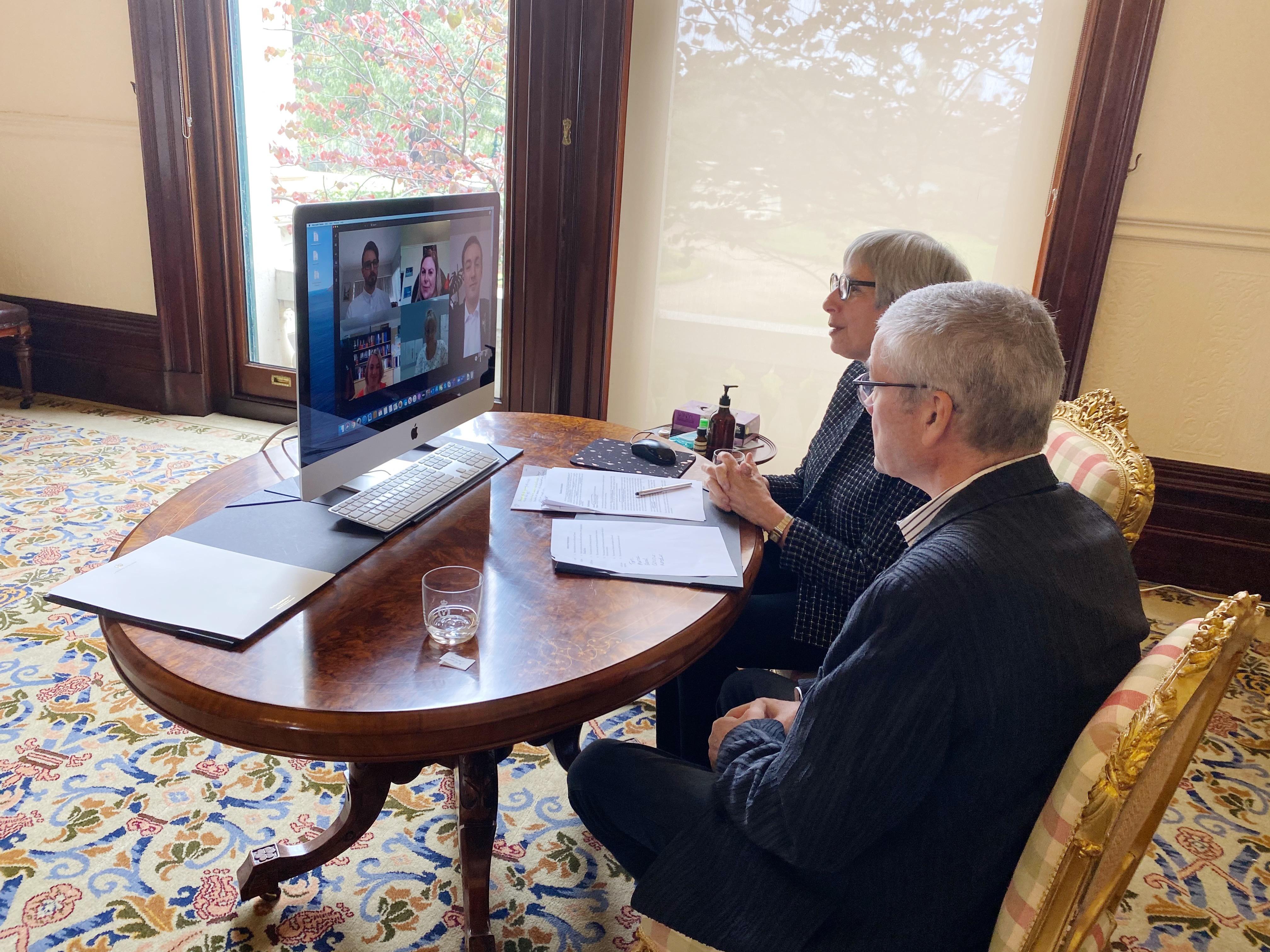 Introduction
This week, the Governor and Mr Howard hosted a number of roundtables, as well as many virtual visits.
Body
The Governor and Mr Howard continued a Vice-Regal program focussed on speaking with representatives of many organisations, to hear about some of the inspiring work being undertaken by Victorians.  This week, the Governor and Mr Howard hosted two roundtables – the first on the occasion of World Teachers' Day, where they met with a cross section of Victorian teachers, to hear about how COVID-19 has impacted each of their schools and the ways in which teachers, students and parents have navigated learning from home. Read more about this roundtable here.  The Governor and Mr Howard also hosted a roundtable with the Foundation for Young Australians, where they heard from a group of Young Social Pioneers who are positively contributing to the Victorian and global community through business led initiatives. Read more about these impressive young Victorians here.
The Governor continued with her program of virtual visits, by speaking with the Gippsland Chair of the Regional Development Advisory Committee, to hear about the local community, impacted so much by the bushfires, and the work of recovery which is currently being undertaken in the region. The Governor enjoyed this opportunity to speak with Ms McPherson, to understand more not only about the challenges, but also the opportunities that the community has seen, and the many important projects which are being undertaken in this beautiful part of the State. To learn more about Gippsland, visit the Regional Development Victoria website.
During the week the Governor also had the opportunity to speak with the Director of the NGV, Mr Tony Ellwood AM, to hear about the ways in which the NGV, one of Victoria's most beloved institutions, has been engaging with Victorians online, and the world-class exhibitions which are being planned once the Gallery is able to safely re-open. 
The Governor enjoyed speaking with the Mayor and CEO of the City of Whitehorse, during a virtual visit. Home to over 170,000 Victorians, the City of Whitehorse is a diverse community with many citizens born overseas. The Governor enjoyed hearing about the ways in which the City of Whitehorse has supported its businesses throughout 2020, and the exciting projects they are working towards as Victoria moves towards COVID-normal.