Feature Image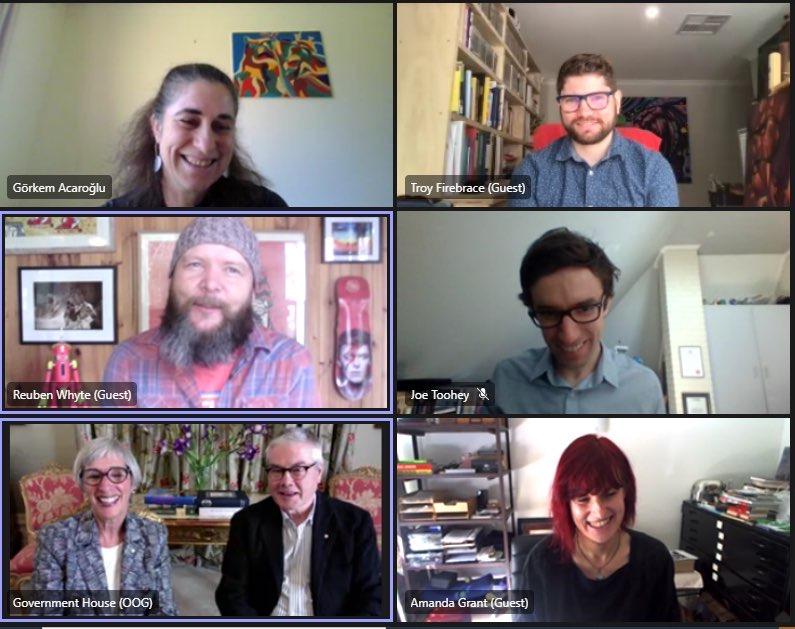 Introduction
The Governor and Mr Howard hosted a virtual Roundtable with Regional Arts Victoria. 
Body
Regional Arts Victoria works to develop, support and sustain the arts across rural and regional Victoria. Today, the Governor and Mr Howard hosted a roundtable with members of the regional arts community.  The Roundtable was an important opportunity for the Governor and Mr Howard to hear directly from representatives of the regional arts community and to learn more about their experiences, particularly in the context of the COVID-19 pandemic. 
Along with Regional Arts Victoria Executive Director Joe Toohey, also participating in the roundtable were Reuben Whyte from Apollo Bay and Amanda Grant, based in Diamond Creek.  Reuben is a sculptor with a specialty in public art, while Amanda has extensive experience as a public sculpture designer, which sees her collaborate with a highly skilled collective of artisans to realise her designs. 
Also joining in the roundtable were Dr Görkem Acaroğlu of Woodend North, and Troy Firebrace, a Yorta Yorta/Dja Dja Wurrung man based in Bendigo. Görkem is an interdisciplinary performance maker and theatre director with 20 years' experience, and among other roles, she was the Creative Director of Melbourne Workers Theatre between 2010 and 2012.  Troy is an artist, and is Director of Firebrace Designs, which provides Aboriginal artist services and education to many parts of the community.  Troy also works as an Aboriginal Education Officer at Melbourne's Catholic Education Office, developing and providing Aboriginal education opportunities, community networking and student/family support services. 
Regional Arts Victoria is an independent, not-for-profit organisation which supports artists and communities across regional Victoria to make, participate in, and experience creative work. They foster contemporary and innovative regional cultural practice, and advocate for the importance of a vibrant regional arts community.