Feature Image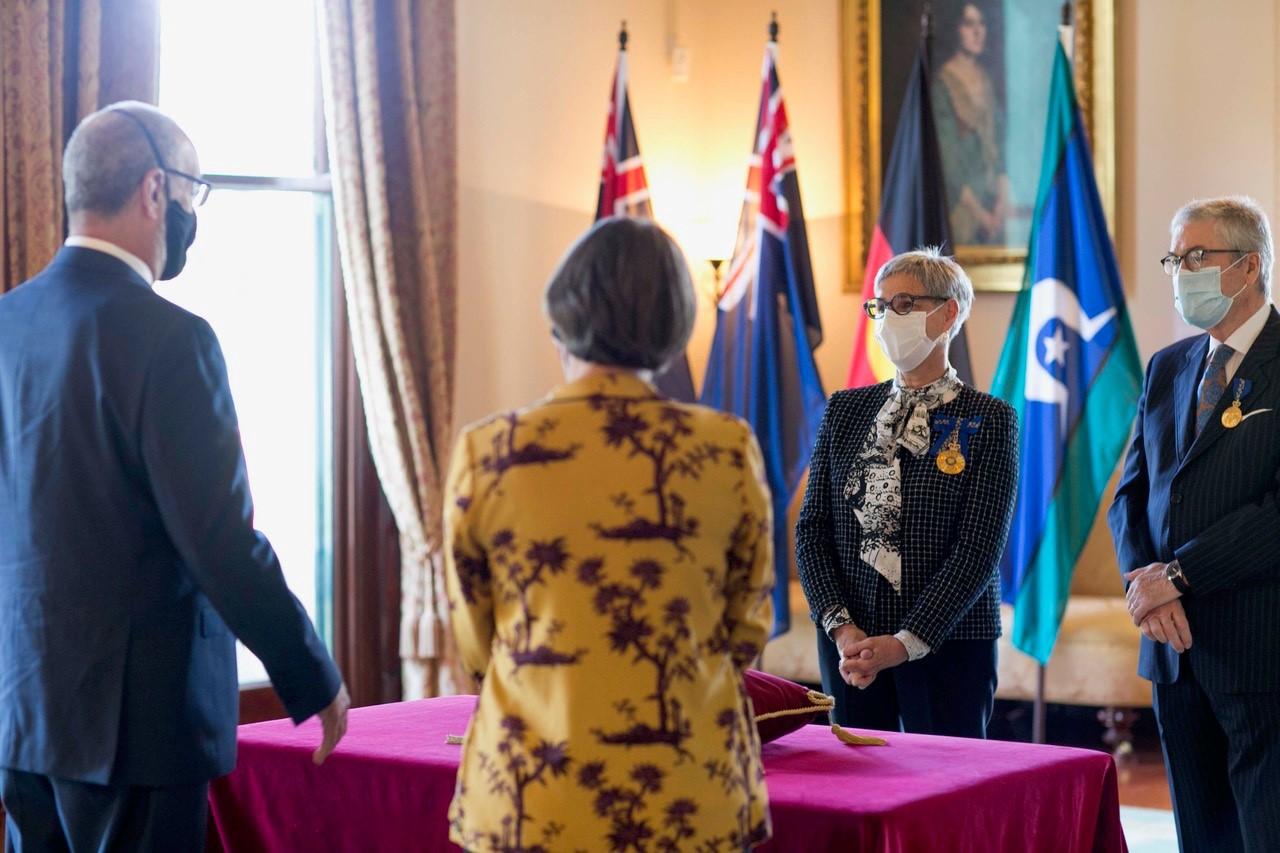 Introduction
The Governor and Mr Howard once again began attending and hosting in-person events this week.
Body
This week the Governor and Mr Howard hosted the first of many in-person investitures for 2020 Australian Honours at Government House Victoria. Over the coming weeks many of these ceremonies will be hosted for Victorian recipients of the 2020 Australia Day and Queen's Birthday Honours. To comply with public health directions and COVID-safety, rather than the traditional investiture of 100 or more recipients at a time in the Government House Ballroom, each ceremony will have between 8 and 10 recipients, and their guests, seated outside.
The Order of Australia is the pre-eminent means of recognising outstanding achievement and contribution in the Australian honours system. The awards recognise Australians who have made a significant difference to their community, their country or at an international level.  Visit this page [link] to read more about this week's investiture ceremonies, and this page [link] to read about some of the remarkable Victorians presented with their honours this week.
The Governor and Mr Howard were also pleased to restart their program of activities outside of Government House. Whilst they have continued to keep a busy virtual program during the period of public health restrictions, they welcomed the opportunity to meet in person with local business owners in Melbourne's CBD. Hosted by Paul Guerra, CEO of the Victorian Chamber of Commerce and Industry, the Governor and Mr Howard enjoyed meeting with Shane Delia, creator of the highly successful and innovative Providoor food delivery service, created to bring the culinary delights of some of Victoria's best restaurants into the homes of Victorians during lockdown. They also spent time speaking with the team at Paperback Books, with Paul Waterson at Melbourne's Imperial Hotel and Guy Grossi and Elizabeth Grossi-Rodriguez, owners of Melbourne's iconic restaurant, Grossi Florentino. It was an opportunity for the Governor and Mr Howard to hear about how local businesses have been impacted by COVID-19 and the creative ways in which they have adapted during these difficult times. On Saturday, the Governor and Mr Howard also enjoyed a visit to the Country Women's Association Victorian Branch Pop-up shop, which is operating every second Saturday in November. The CWA provide invaluable and cross-generation support for women and children in Victoria, particularly in rural communities, in areas of health and wellbeing and proceeds from the shop will go towards funding their many community programs.
Continuing her virtual program, the Governor met with the Chair of the Loddon Campaspe Regional Development Victoria Partnership. Taking in the Shires of Campaspe, Central Goldfields, Loddon, Macedon Ranges and Mount Alexander, as well as the City of Greater Bendigo, Loddon Campaspe is a beautiful part of Victoria, home to over 240,000 people, and with an economy based around agriculture and manufacturing.  To learn more about Loddon Campaspe, visit this website.
The Governor also participated in the 40th Anniversary celebrations for the Victoria-Aichi Sister State Relationship this week.  A Prefecture in the Chubu Region of Japan, Aichi and Victoria share a close and mutually beneficial relationship, which is focussed on promoting the exchange of ideas in trade and investment, education, culture and the arts. Both RMIT and Monash University have MOUs and exchange programs with Aichi-based universities, and there have been many joint undertakings and trade missions throughout the history of this very important relationship. Visit this page to learn more about this fascinating and beautiful part of Japan.  The Governor released a message to mark this anniversary – view the message in full here [link].