Feature Image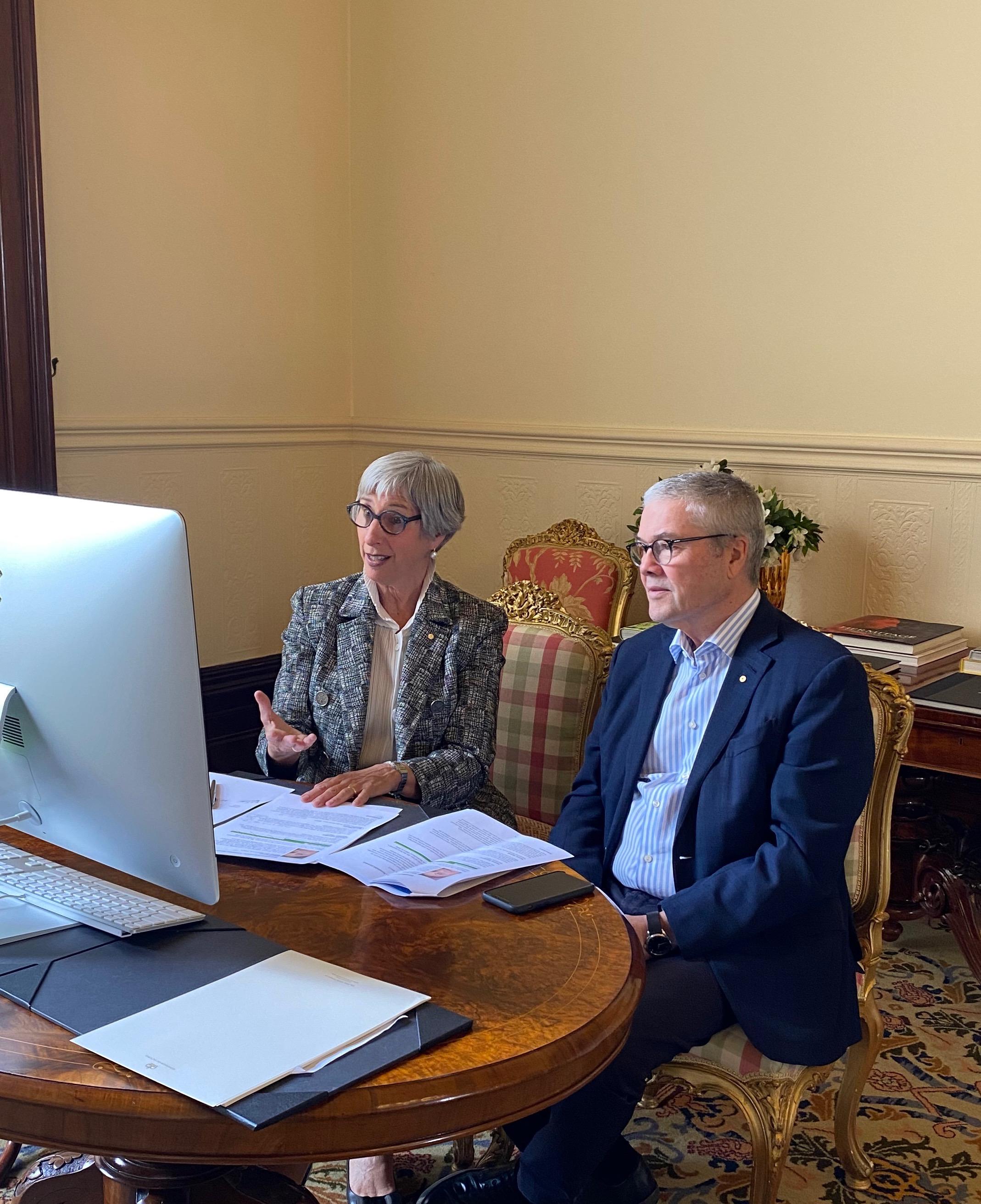 Introduction
The Governor and Mr Howard continued their program of virtual roundtables today.
Body
This afternoon, the Governor and Mr Howard continued their program of virtual roundtables, and were pleased to have been able to host a roundtable with members of the Muslim Women's Council of Victoria (MWCV).
The MWCV  is a not-for-profit organisation that looks to meet the challenges faced by Muslim women living, working and integrating into the broader community in a way that honours their religious and cultural heritage while simultaneously enriching the broader Australian community.  The organisation runs a number of programs focused on getting Muslim women involved in educational, sporting and social activities, and aims to have an informed, knowledgeable and skilled pool of Victorian Muslim women contributing to the social, cultural and economic fabric of Victoria.  MWCV members are volunteers, and like many Victorian volunteers, contribute to the organisation in addition to juggling multiple responsibilities, such as paid employment and family life.
The Governor and Mr Howard were very keen to hear about the good work the organisation has been undertaking. During COVID-19 MWCV is just one of many grassroots organisations in Victoria who are caring for others during what has been a very challenging time. Over the last few months the MWCV have been volunteering to make halal meals for members of the community. In doing so, they hope to promote understanding and harmony among Victorians from varied cultural and faith backgrounds. Ms Afshan Mantoo, founding member and Director, spoke of the founding of the group, and how, during the current public health situation, the MWCV has changed the way it operates to incorporate the provision of home-cooked meals and grocery items to those who need assistance. During the pandemic, the MWCV has served over 10,000 meals, contributing significantly to address an urgent need within the community. 
In addition to healthy, freshly cooked halal meals, with a focus of reaching out to anyone in the community who is in need of a helping hand, MWCV provides food parcels, with several days of supplies. In preparing and distributing these meals and food parcels, and through the work they do more broadly, Ms Samina Tajammal, Secretary, spoke of the importance of the social connection which the women are able to make.  Many recipients – such as international students, or recently arrived migrants – may not have an established support network when they first arrive in Victoria, and the opportunity to make a social connection and have a conversation with someone in the community is an important aspect of this program.
The Governor and Mr Howard were very thankful that members of the MWCV took the time to speak about their important programs, and look forward to hearing about the projects the group is planning for the future. To learn more about the MWCV, visit their website.