Feature Image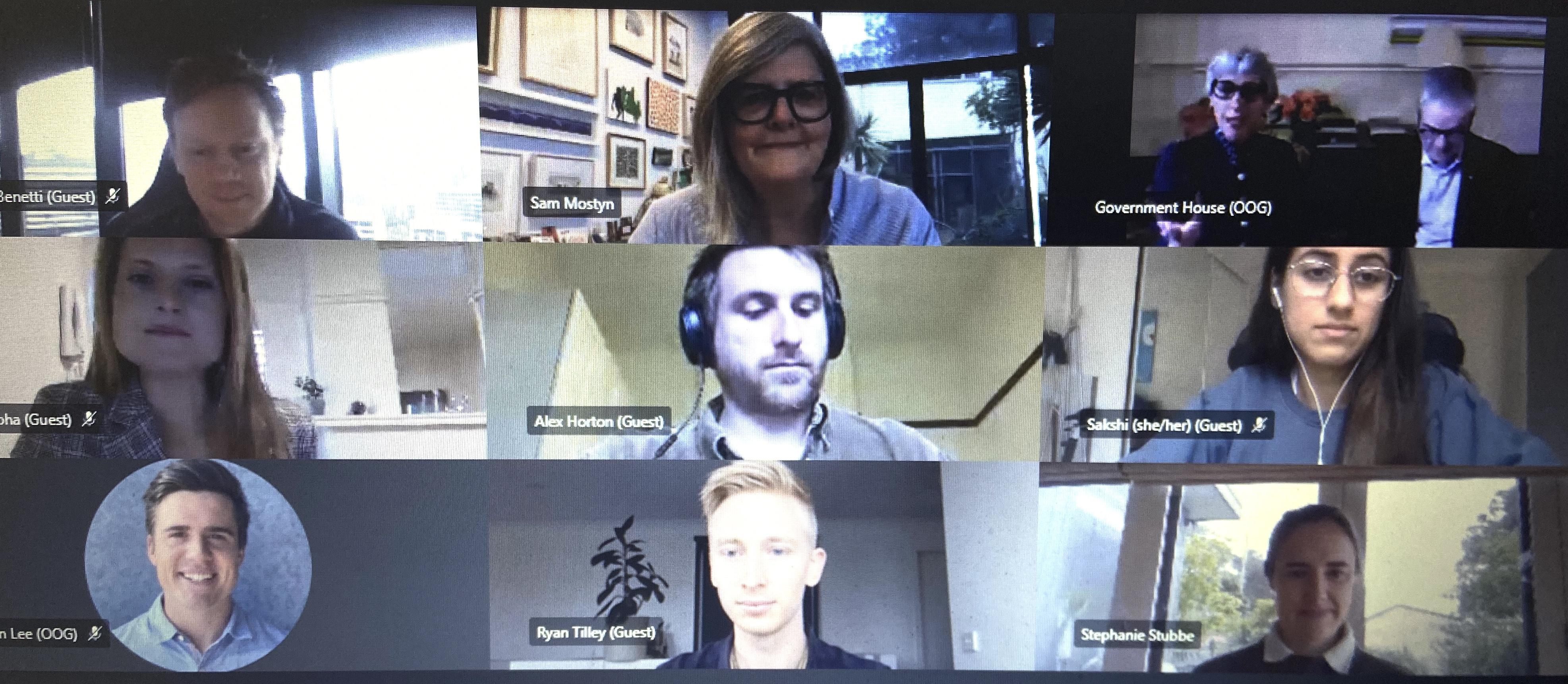 Introduction
The Governor and Mr Howard hosted a roundtable with participants of Foundation for Young Australians' Young Social Pioneers program.
Body
The Foundation for Young Australians' flagship program, Young Social Pioneers, is designed to back and support young people with the initiative, drive and ideas to lead change in their communities. The Governor and Mr Howard were delighted to host a roundtable for some of the most recent program participants to hear about how these enterprising young people are working towards shaping a more equitable and safer community for all.
Amongst the many creative and innovative business ideas discussed at the roundtable, some of the entrepreneurs that the Governor and Mr Howard heard from included Kanav Batra, an engineer and CEO and Founder of Envision Systems. Kanav spoke about the ways in which his company is working with governments to provide them with real time information on how people flow through cities.  The organisation was started with the premise of solving traffic problems in major cities, but with the rise of COVID-19, Kanav and his team have adapted their systems to map how the virus might be moving through the community.
Rhianna Knight of Team Timbuktu, explained how her sustainable brand of high-performance wear will have resulted in over 75,000 plastic bottles being recycled into clothing by the end of the year. Rhianna spoke about her background in fashion, and her aim to create apparel which didn't compromise on fashion, quality, or performance, yet was still sustainable.   
The Governor and Mr Howard also heard from Ryan Tilley, Founder and Manager of Gecko Traxx, with a mission to enable everyone, regardless of ability, to get out and explore the great outdoors. Their portable and affordable Gecko Traxx tyres provide an opportunity for wheelchair users to get off-road, safely and easily. Manufactured locally, Ryan and his team have been able to continue production of the over-tyre system throughout COVID.  
Throughout the course of the roundtable the Governor and Mr Howard also heard from Sakshi Thakur, CEO of Humanism Global, Alex Horton, Managing Director of econome, Oliva Soha, Founder, Uncovery, and Stephanie Stubbe, Founder of Anipal. They very much enjoyed hearing about all of the projects and initiatives that this impressive group of young people are involved with, and the ways in which many of these ideas will positively contribute to the Victorian and global community. To learn more about the Foundation for Young Australians, visit their website. 
The Governor and Mr Howard look forward to once again being able to host these events in person at Government House, but until such time as that is possible, they continue to speak with Victorians representing many different facets of our community. To learn more about how the Governor and Mr Howard are hosting events, calls and virtual visits online during Stage 3 restrictions, or to invite the Governor and Mr Howard to a virtually visit your organisation, visit this page.