Feature Image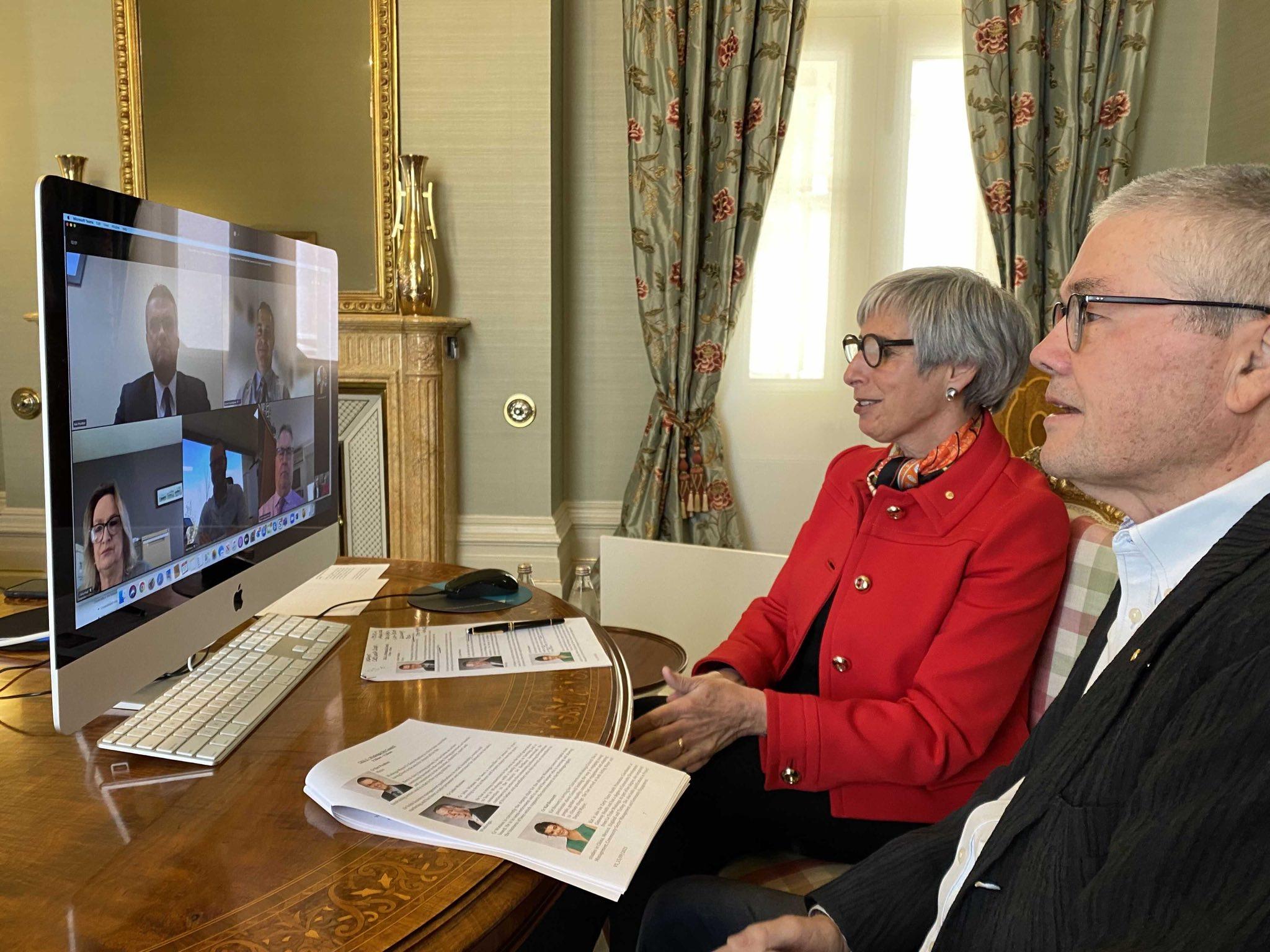 Introduction
The Vice-Regal program this week had a particular focus on regional Victorian communities. 
Body
This week, the Governor met online with Dr Jacqui Jennings, Chair, and Mr Mark Bennetts, CEO, of Mt Buller and Mt Sterling Alpine Resort, to hear about their operations in the context of the COVID-19 pandemic and their plans for the future.  The Governor also heard from Cr Ross Ebbels, Mayor, and Martin Gill, CEO, of the Borough of Queenscliffe.  Queenscliffe is situated on the Bellarine Peninsula, and is the first local government area in Australia to reach the national COVID-19 vaccination target of over 70% fully vaccinated (with more than 90% with at least one dose).  The virtual meeting was an opportunity for the Governor to hear about the experiences of the residents of Queenscliffe during their successful vaccination roll out, and to learn about the ways residents were engaged and supported.  The Governor also met virtually with the Chair and the CEO of VicHealth, the Hon Nicola Roxon and Dr Sandra Demaio, to receive an update about the current programs and projects VicHealth is focusing on. 
On Friday, the Governor and Mr Howard met virtually with Moustafa Fahour OAM, Founder, and Nesreen Bottriell, CEO, of the Islamic Museum of Australia, a not-for-profit  established in Thornbury in 2010 and is the first centre of its kind in Australia. The Museum showcases a diverse range of Islamic art including architecture, calligraphy and paintings, and aims to foster community harmony and facilitate an understanding of the values and contributions of Muslims to Australian society. 
International engagement on behalf of the State is a key feature of the role of the Governor, and building and maintaining strong relationships with Ambassadors, High Commissioners and the Consular Corps is an important part of that aspect of the role.  This week, the Governor met virtually with the newly-appointed US Consul-General to Victoria, Kathleen Lively, to hear about her priorities during her posting to Victoria. Learn more about the role of the Governor here. 
The week concluded with a virtual visit to the City of Wodonga. Wodonga is situated on the Murray River, surrounded by historic townships and a beautiful natural landscape filled with hiking trails and bike paths.  Wodonga, together with Albury, forms a key border community, which has experienced unique challenges during the COVID-19 pandemic.  The Governor and Mr Howard enjoyed the opportunity to speak with members of the local Council to better understand these challenges, and the experiences of the local community. During the virtual visit, the Governor and Mr Howard also met with representatives of local industry and businesses, including Justin Dowling, Southern Region General Manager, and Alison O'Neill, General Manager from the Woolworths Distribution Centre, a major employer in the City, and Wassim and Marcia Saliba, owners of La Maison Restaurant.