Feature Image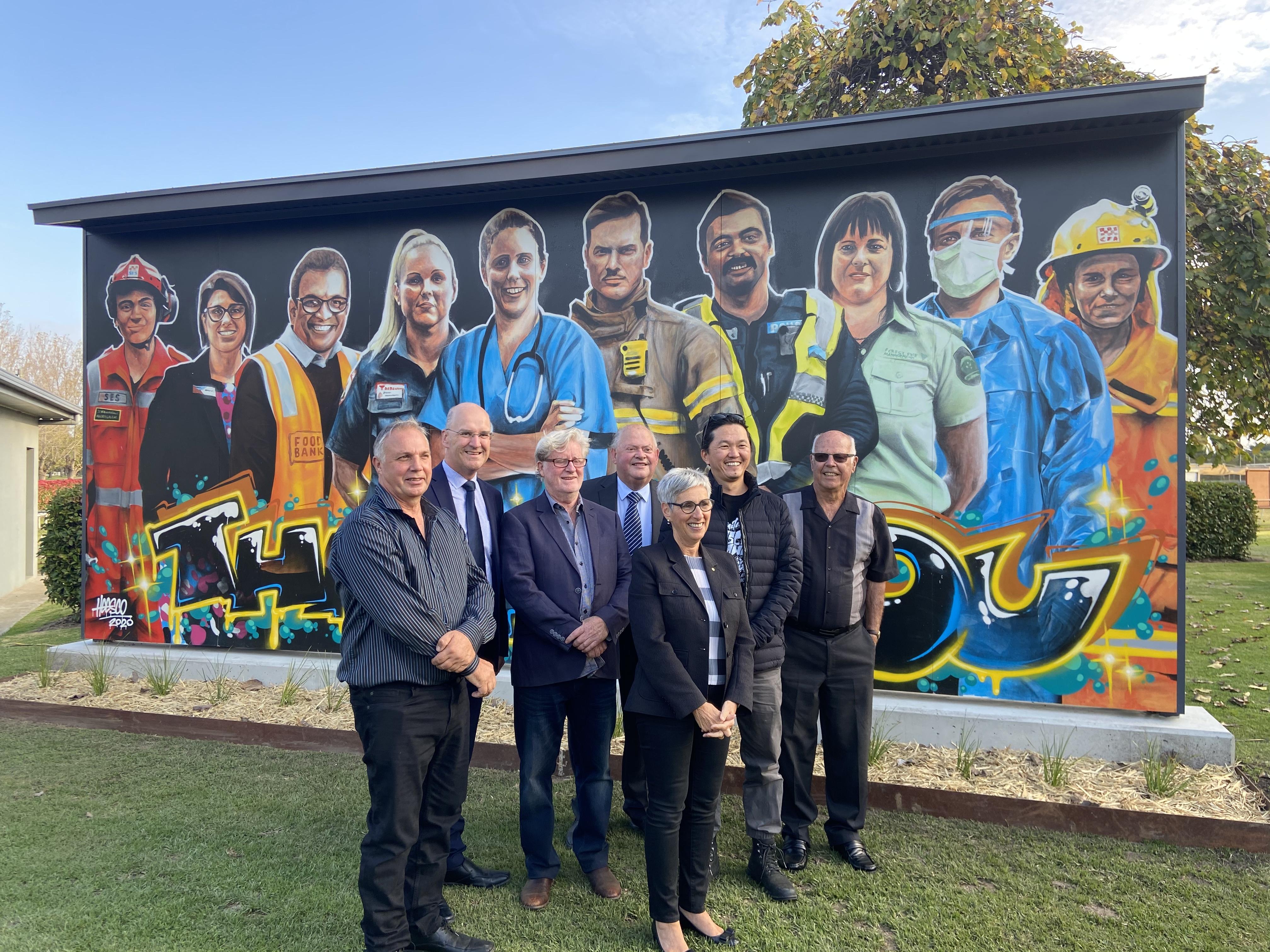 Introduction
While on a regional visit to Wellington Shire, the Governor officially unveiled a plaque commemorating the permanent home of the 'Thank You' mural.
Body
Commissioned during 2020 to thank the many front-line and essential workers who led Victoria's response and recovery to the bushfires and COVID-19, and to support Victorian creative industries, the 'Thank You' mural formed the backdrop for many functions while on display at Government House Victoria, including some functions specifically dedicated to recognising the contribution of essential workers.
In December 2020, the Governor and Mr Howard were very pleased to have been able to host several functions in honour of, and for, essential workers – including a jazz concert held in the Ballroom for nurses and health workers, and an end-of-year reception to thank Victorian teachers for their incredible work during a difficult year. 
The mural was on display in the grounds of Government House Victoria for both functions, and it remained in place during the 2020 Investiture Program, and as a backdrop to all the functions held at Government House as part of the official program.
The final function held at Government House at which the mural was displayed was at a 'Thank You' concert held in March 2021.  This concert was attended by almost 500 front line workers, and featured performances by some incredibly talented spoken word artists, singers, and musicians. Among the attendees were many of the faces behind the mural – front line and essential workers whose likenesses were used as the inspiration by Heesco® in creating the mural.  Read more about the 'Thank You' concert here.
At the suggestion of the artist, the mural was later transported to Yarram at the conclusion of the 'Thank You' concert, where it will now form part of the award-winning 'HeescoTown' street art project. The Governor was very pleased to have had the opportunity to visit Yarram, not only to officially unveil the mural in its new location, but to see for herself the rest of the 'HeescoTown' project. Over the coming days, the Governor will meet with citizens of the Wellington Shire, to hear about the many projects and exciting opportunities currently underway in this beautiful part of Victoria.
Read more about the 'HeescoTown' project here and to learn more about Wellington Shire, visit their website.