Feature Image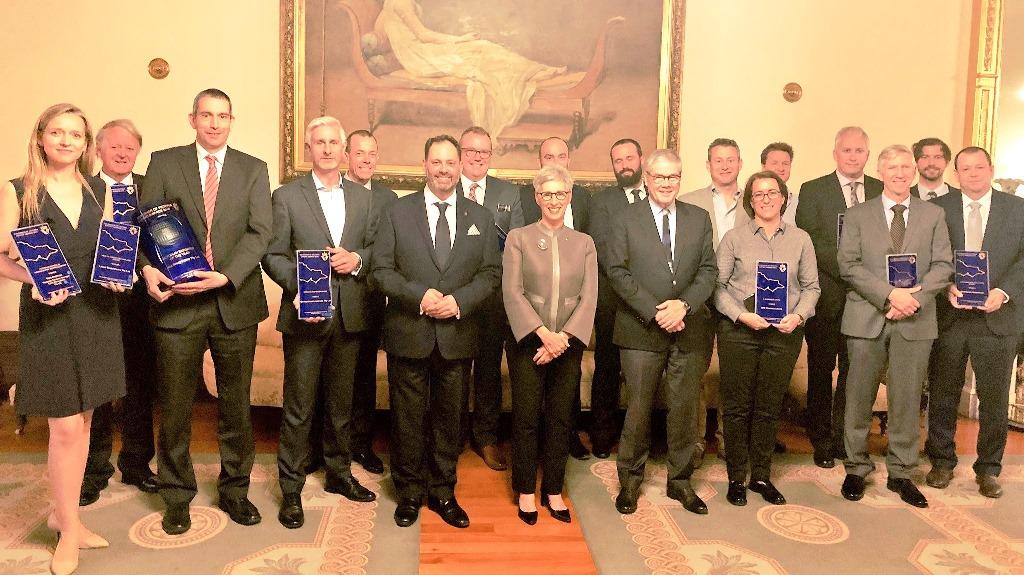 Introduction
The contribution of Victorian export businesses to the State's economy was recognised and celebrated at the Governor of Victoria Export Awards, with Mt Waverley-based business Leica Biosystems being named 'Victorian Exporter of the Year'.
Body
Leica Biosystems, which also won the 'Health and Biotechnology Award', produces three recognised and successful cancer diagnostic instruments. Leica is a major player in anatomical pathology, exporting more than 90 % of all products designed and manufactured in its Melbourne facility.
The Hon. Linda Dessau AC, Governor of Victoria, who is patron of the awards, and Anthony Howard QC,  hosted the presentation at Government House attended by more than 250 people.
The Governor said the exporting businesses helped Victoria to prosper.
'Victorian goods and services exports continue to grow and reach record highs, growing by more than 10% last year, and contributing almost $50 billion to the Victorian economy in 2017,' the Governor said at the awards ceremony.
'It is pleasing to see the wide variety of businesses being awarded this year. Such diversity reflects what we are seeing in our international engagement work.
'Widespread enthusiasm continues for our food and fibre, financial services, bioscience and education exports. But interest also continues to grow in tourism (which has increased by 13%), and in our defence technology, mining technology and services, cyber security, gaming and creative industries, water management and urban planning.'
The 13 business category winners will be finalists in the Australian Export Awards.
The other awards were:
 
Agribusiness Award: Hussey and Company, a grower, packer and distributor of premium quality Australian baby salad leaves.  Hussey is Australia's leading exporter in the fresh salad category.
Business Services Award: OMC International , whose e-Nav technology allows the shipping of more cargo, more safely, more often.  The technology operates in most major Australian ports, in New Zealand, Europe, North America.
Creative Industries Award: FanHubMedia, experts in delivering digital fan engagement products for the world's biggest sports leagues, sports media companies and brands that sponsor sports events.
Digital Technologies Award: Catapult, whose technology builds and improves the performance of athletes and teams using precision engineering at the intersection of sports science and analytics. Catapults products are now being used by more than 1,600 professional sports teams globally.
 
E-Commerce: DPP Pharmaceuticals which manufactures the Goat range of skin care products which contain goats milk and other therapeutic ingredients  
Education And Training Award: IDP Education, the largest education organisation on the Australian Stock Exchange, providing international student placement and support, English language testing and tuition.
Emerging Exporter Award: FitMyCar, an Australian manufacturer and award winning on line retailer of mass customised car accessories including floor mats, dash mats and cargo liners.  Made to order, each product is custom manufactured in Australia.
Environmental Solutions Award: GeoFabrics Australasia who manufacture and market a range of advanced proprietary geosynthetic products for road and railway construction, mining and resources projects, landfill and coastal engineering applications.
Manufacturing Award: Bosch Australia, which in 2017 manufactured 113 million power diodes at its Clayton site - all of which were exported to a global customer base in Europe, China, India, North America and South America
Minerals, Energy And Related Services Award: Business For Millennium Development , who works with communities on initiatives that such as the development of sustainable agribusinesses that will endure beyond mine closure and reducing current mine dependence.  This model enables mining companies to strengthen their social license to operate.
Regional Exporter Award: Envirostream Australia, based in New Gisborne, has created a true circular economic business model between Australia and Korea.  Envirostream is the first Australian company to not only collect but process spent lithium batteries, recover the resources and produce and export valuable materials to be used directly back in the manufacture of new batteries. 
Small Business Award: Cornerstone Solutions, a world leader in the manufacture, sale and ongoing service provision of image-capture, delivery and analysis solutions.  Cornerstone has more than 2,000 photoSentinel branded time lapse cameras operating in more than 50 countries across six continents.
Victorian Women In International Business Award: Dr Ewa Douroux, Business Services Manager for Leica Biosystems.    Under Ewa's leadership, Leica won the US based Biorad supplier of the year award, competing against 100 international suppliers.  Dr Douroux has also been at the inception of a new product line, and has  taken on the responsibility of leading the creation of a new production facility in Melbourne to produce one of the world's most advanced cancer diagnostic solutions.
Victorian Export Award For Innovation Excellence: Sealite, the world's largest privately-owned designer and manufacturer of marine and aviation navigation aids that guide shipping and aircraft for clients such as ports and harbours, airports and defence agencies