Feature Image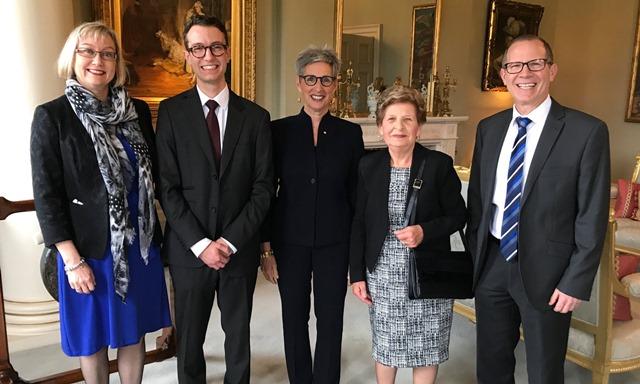 Introduction
University of Melbourne student James Maccarrone was today announced as the 2018 Victorian Rhodes Scholar by the Hon. Linda Dessau AC, Governor of Victoria.
Body
As part of the scholarship, Mr Maccarrone will undertake a BA in Jurisprudence with Senior Status at the University of Oxford next year.
"The value and power of quality education has been central to my worldview," Mr Maccarrone said.
"It is my ultimate aim to dedicate myself to the advancement of public policy in Australia and internationally. The Rhodes Scholarship provides an incredible opportunity to realise this vision through being immersed in Oxford's academically-rich environment and learning from others about their leadership experiences."
Four scholarship finalists and their families gathered at Government House today for the announcement.
The Governor said it was a privilege to chair the Rhodes Scholarship Selection Committee for Victoria. She thanked the selection committee members for the skill and time that they contribute to the process.
The Governor added:
"It has been exhilarating to listen to each candidate, to marvel at their achievements so far and to be privy to their aspirations for the future. I have no doubt that each one of them has a bright future and is destined to make a great contribution to Victoria, the nation and far beyond our shores too.
"The Selection Committee had the difficult role of choosing excellence from amongst excellence.
"I congratulate Jia Hui Lee and Brigid O'Farrell-White on proceeding to the Australia-at-Large selection process in Canberra next month, and wish them both the best of luck. And it is my pleasure to announce and congratulate 2018 Victorian Rhodes Scholar, James Maccarrone."
Professor Carolyn Evans, Honorary Secretary of the Victorian Rhodes Scholarship Selection Committee, said: "James impressed the panel with his exceptional academic results and his capacity to combine excellence in his course with leadership and community engagement.
"He was an articulate and thoughtful candidate with a strong set of insights into current affairs and a deep commitment to public service in the interests of the wider community. We are delighted to welcome James into the Rhodes community."
Mr Maccarrone has completed a Bachelor of Commerce (Hons) majoring in Economics with First Class Honours.
Mr Maccarrone is the recipient of several university scholarships, academic awards and other prizes and exhibitions. He is also an accomplished violinist, university debater and community volunteer who teaches migrant and refugee children.