Feature Image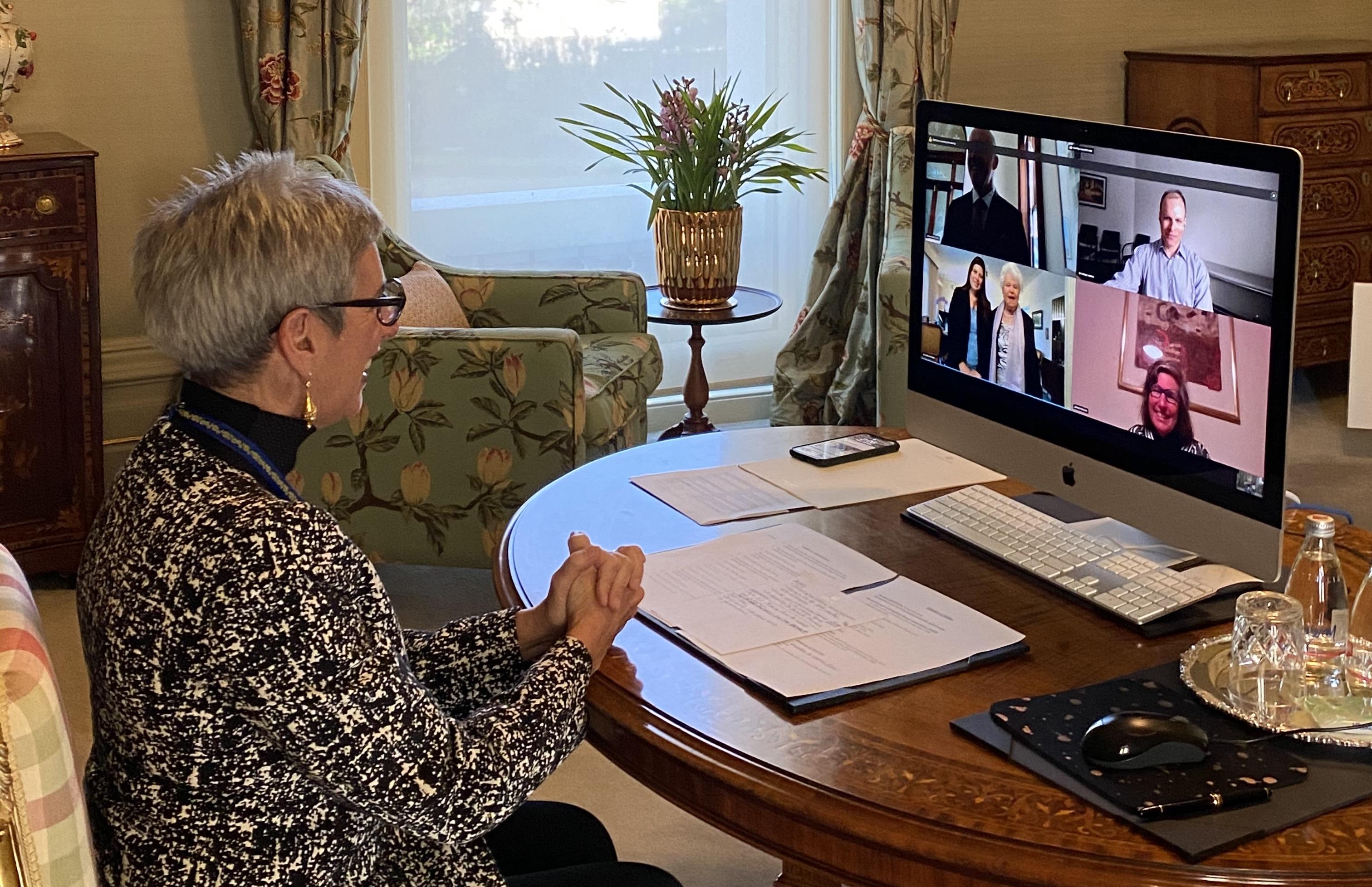 Introduction
This afternoon, the Governor conducted Victoria's first-ever virtual investiture in the Order of Australia.
Body
Restrictions on gatherings in person have necessitated a change to the traditional method of presenting awards in the Order of Australia.
This afternoon, the Hon Linda Dessau AC, Governor of Victoria, presented Victorian resident Mrs Bella Hirshorn, who is in her late 90s, with her award as a Member of the Order of Australia (AM), during an online ceremony.
"The unusual circumstances of COVID-19 have led to this unprecedented virtual investiture. Mrs Hirshorn has made an outstanding contribution to many aspects of Australian life" the Governor said of Monday's ceremony. "I'm so pleased for the opportunity to invest Bella Hirshorn, a remarkable Victorian, with her Australia Day honour",
Due to COVID-19, the investiture ceremonies that were to be held in the Government House Ballroom in March 2020, (at which Mrs Hirshorn would have received her medal), had to be cancelled. Instead, the Governor presided over the ceremony by video from Government House, and Mrs Hirshorn remained in her home.  Mrs Hirshorn's granddaughter Michelle stepped in to physically pin the medal on her grandmother, on the Governor's behalf.   Mrs Hirshorn's daughter and grandson joined the virtual ceremony from separate locations in Sydney.
"I am greatly honoured to receive this award in recognition of my contribution to the Jewish community and to women over so many years.  I have been very fortunate in my life in Australia and it has been very rewarding to be able to give back and to help others" Mrs Hirshorn said on the announcement of her award earlier this year.
Mrs Hirshorn was appointed a Member of the Order of Australia in the Australia Day Honours List earlier this year, for significant service to the Jewish community, and to women.  With her family, Mrs Hirshorn – a holocaust survivor who came to Australia in 1949 – has also been a strong supporter of medical research in Australia.  Mrs Hirshorn has a long history of volunteering in her local community, including serving as President and Co-President of the Eilat Group of the World Women's International Zionist Organisation since 1958, and acting as a Volunteer Guide at the Jewish Museum of Australia since 2005.
More of Victoria's oldest Order of Australia recipients will have the opportunity to be presented with their Awards in the Order of Australia, during virtual investiture ceremonies over the coming weeks.
The Order of Australia is the pre-eminent means of recognising outstanding achievement and contribution in the Australian honours system. It rewards people who have made a significant difference to their community, their country or at an international level.  To read more about the Order of Australia, and how to nominate, visit this website.