Feature Image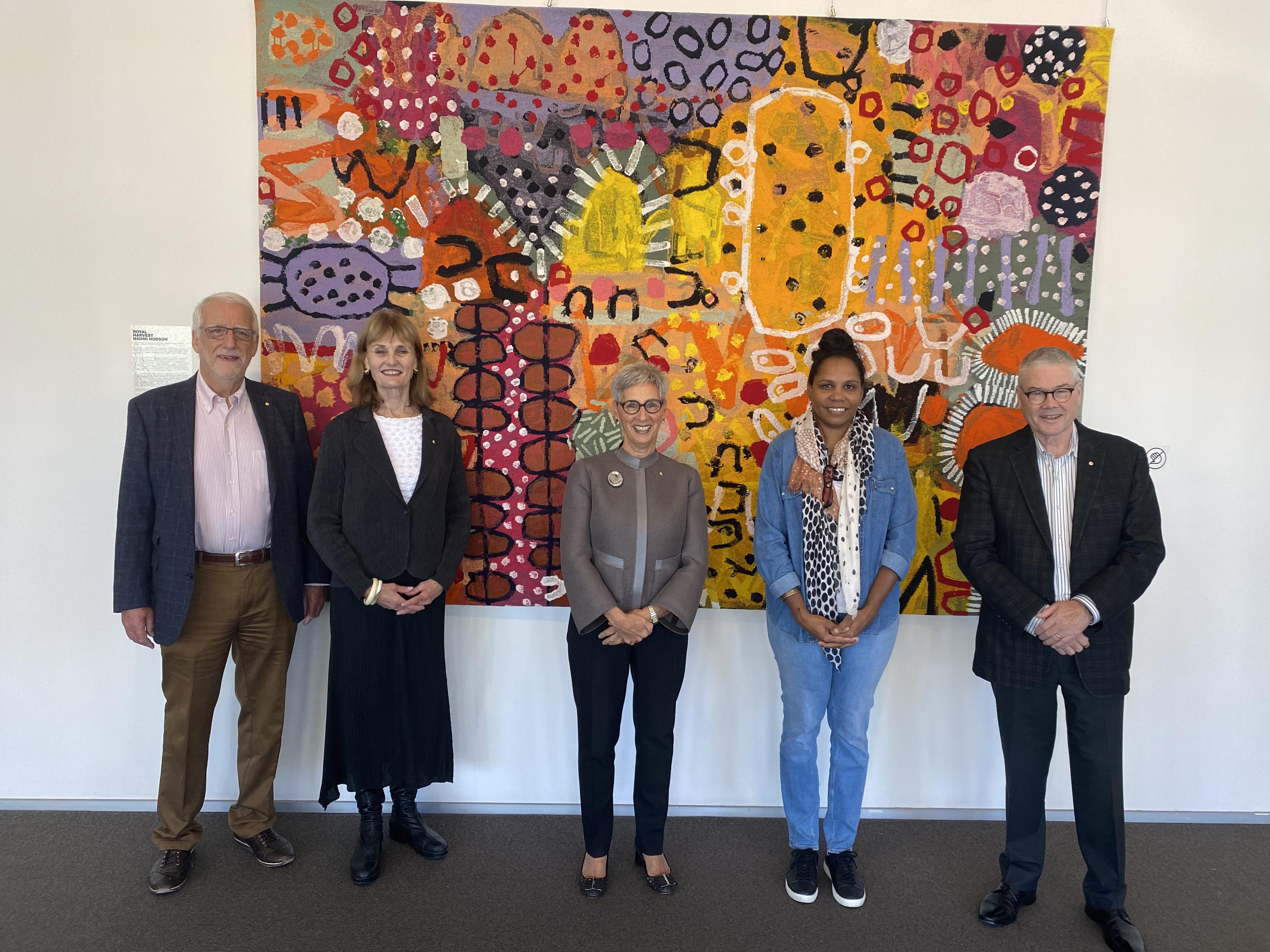 Introduction
The Governor and Mr Howard visited the Australian Tapestry Workshop earlier today. 
Body
The Australian Tapestry Workshop (ATW) is a leading producer of hand-woven tapestry, and their skilled artists use the same techniques employed in Europe since the 15th century. During their visit, the Governor and Mr Howard met some of the artists who produce these incredible works of art. The skilled weavers at the ATW work with contemporary artists from Australia and overseas to produce tapestries that are known for their vibrancy, technical accomplishment and inventive interpretation.  
Key to the Governor and Mr Howard's visit to the Workshop today was the viewing of 'The Royal Harvest', a magnificent tapestry designed by Naomi Hobson, and interpreted as a tapestry by a team of weavers from the ATW. 
Speaking about 'The Royal Harvest', Naomi Hobson notes that it '"Evokes an environment brimming with life". Hobson says her tapestry design 'represents the bounty left behind from our ancient trades between my people in Cape York and Indonesians. The shapes suggest trading movement through country and the colours are capturing the energy, joy, abundance and excitement of trading between the two cultures". 
The tapestry was completed in February 2021, and will shortly be transported to its permanent home in the Australian Embassy in Jakarta. It is part of the Embassy Tapestry Collection, a cultural program which places ATW tapestries, designed by Australian Indigenous artists, on loan to overseas diplomatic posts. 
ATW tapestries can be found across Australia at leading institutions, as well as at prominent government locations including Parliament House, the Australian War Memorial in Canberra, and in the State Hall of Government House Victoria. The ATW is the only workshop of its kind in Australia and one of a handful in the world, and its mission is to ensure that the art of tapestry weaving is kept alive and thriving for generations to come. Learn more about the ATW by visiting their website.