Feature Image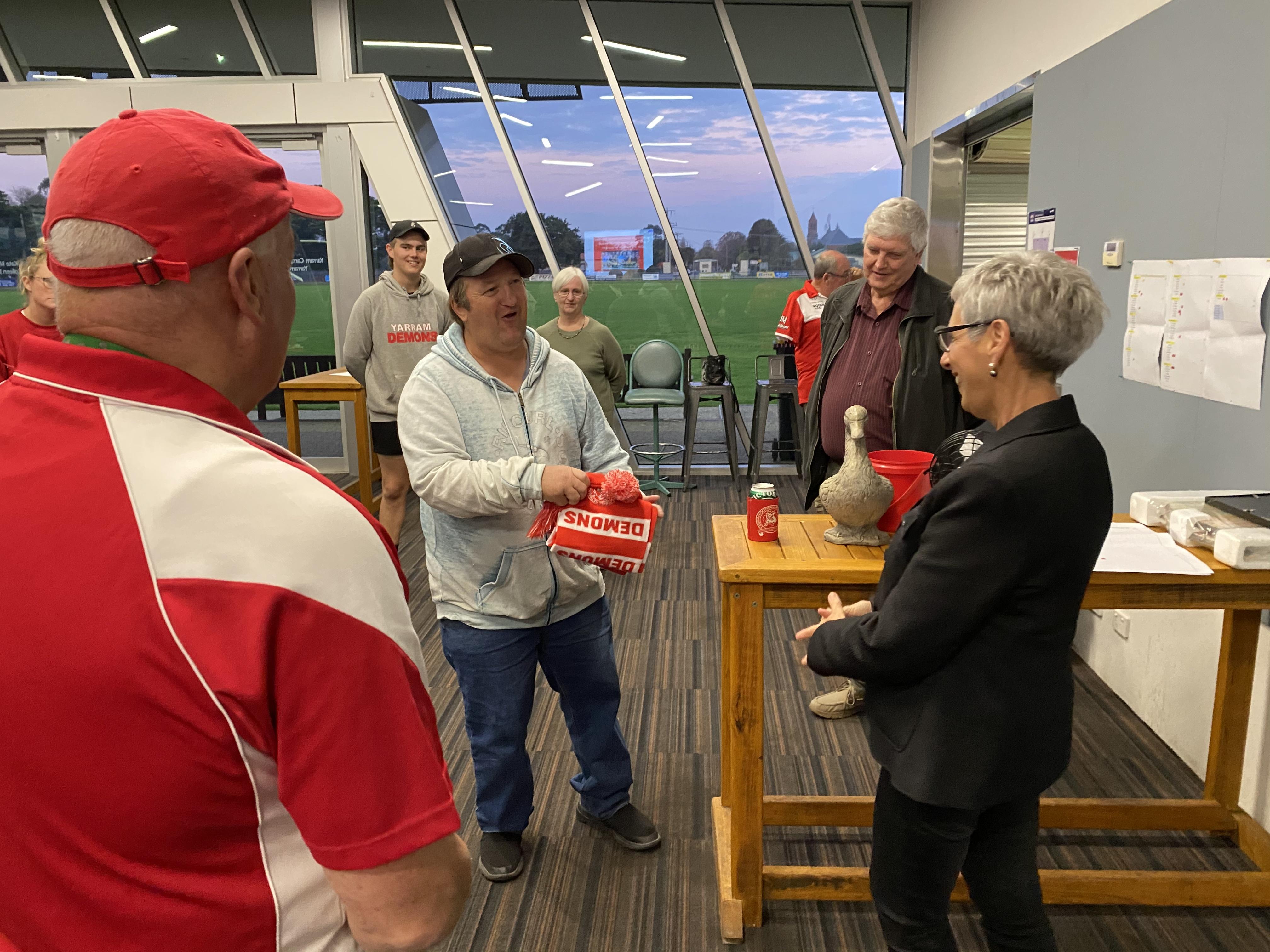 Introduction
The Governor visited Wellington Shire in Victoria's southeast this week. 
Body
The Governor's visit to Wellington Shire provided the opportunity to meet and speak with many members of the local community, and to learn about current initiatives in the area. 
After meeting with Councillors of the Wellington Shire and laying a wreath at the Yarram Cenotaph, the Governor unveiled the permanent location of the Thank You mural painted by Heesco, which was commissioned by the Governor and Mr Howard in 2020 to thank front-line workers, which now finds its home in Yarram.  Read about the official unveiling here. Following the unveiling of the mural, the Governor was guided on a tour of the HeescoTown project, an award-winning local initiative, lead by enthusiastic local residents to increase tourism to Yarram. 
The local Football and Netball club is very often the heart and soul of many regional centres, so the Governor was pleased to have been able to pay a visit to the clubrooms of the Yarram Football Netball Club, to meet some local players, and to hear how the team is faring so far this season. 
While visiting Wellington Shire the Governor visited Toms Cap Vineyard, while also taking the opportunity to learn more about the history of the region, with a visit to the Port Albert Maritime Museum. The Governor visited Radial Timber Mill in Yarram, which is the only commercial radial timber mill in the world. It supplies a product which is favored by architects, due to its strength and stability.  The mill recently underwent a redevelopment to cope with the increased demand for their products. 
The final stop during the tour of Wellington Shire was a visit to the Wulgunggo Ngalu Learning Place. Wulgunggo Ngalu, which means 'which way together' in the Gunai Kurnai language, is a voluntary residential program that supports Koori men on Community Corrections Orders.  It helps to provide them with an opportunity to learn new skills, reconnect with or further strengthen their culture, and participate in programs and activities to help them in the future.   During the visit, the Governor received a briefing on the program, and had the opportunity to meet with staff and participants to hear first-hand about the program.