Feature Image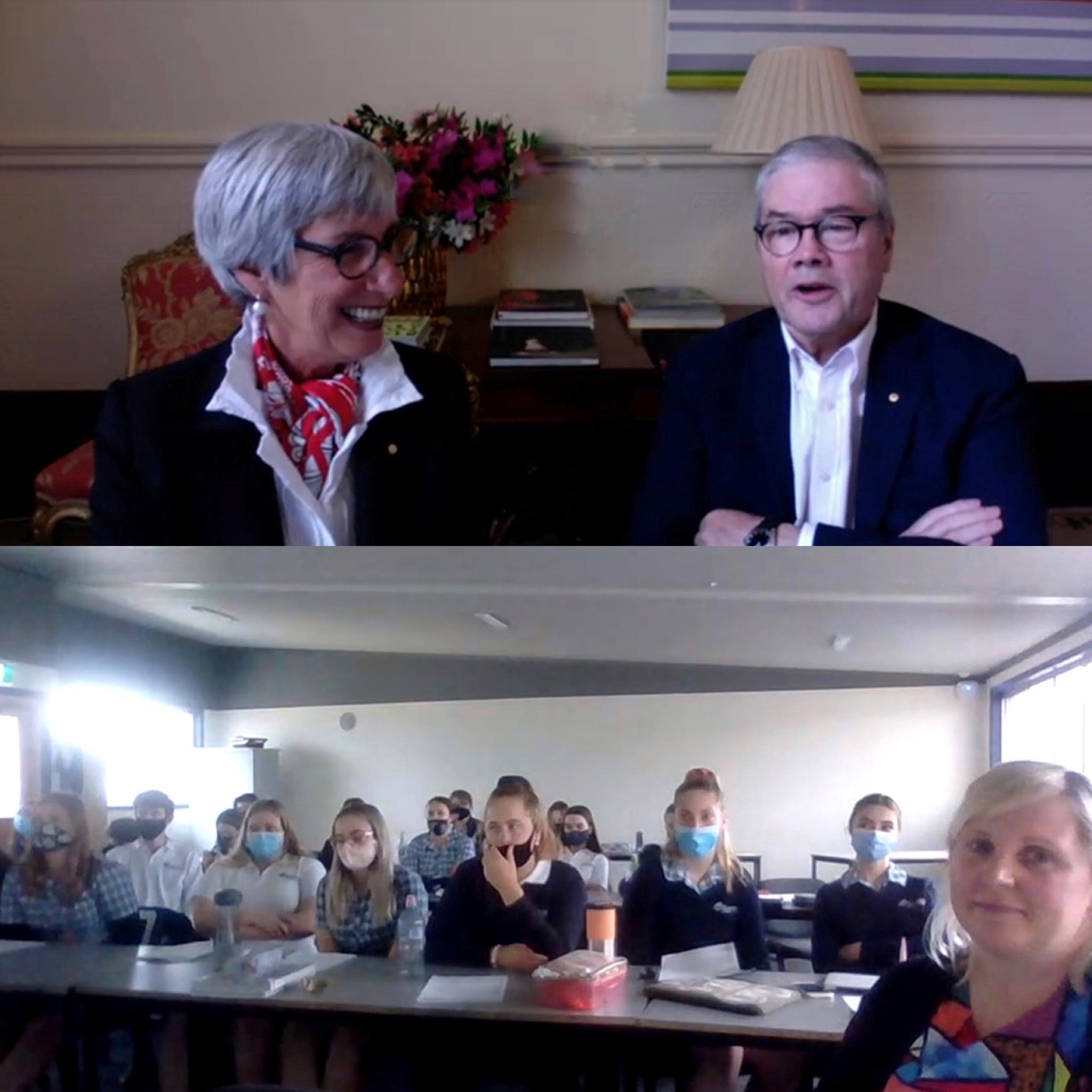 Introduction
The virtual Vice-Regal program continued this week, with the Governor and Mr Howard hosting a number of roundtables, attending virtual visits, and hosting a reception to mark the International Day of Rural Women.
Body
The Governor and Mr Howard hosted a roundtable with members of the Muslim Women's Council of Victoria during the week, where they heard about how the organisation pivoted during COVID-19 to support their local community by providing home-cooked meals and food parcels to those who need assistance during this challenging time. To read more about the way that the MWCV is helping those in need, visit their website.
The Governor's program of meeting with the Chair from each of Victoria's Regional Development Advisory Committees continued this week, with the Governor speaking with the Chair of the Great South Coast Partnership.  During the meeting with Ms Lisa Dwyer, the Governor heard about how the region is innovating to meet future challenges and taking advantage of new opportunities.  The Governor in Schools program continued this week also, with Year 11 and 12 students from Bairnsdale Secondary College having the chance to speak with the Governor and Mr Howard and to ask questions and learn about the modern role of the Governor, and the important constitutional role the Governor of Victoria plays.
This week, amongst other calls, the Governor and Mr Howard had the opportunity to meet with the Victorian Young Australian of the Year for 2020, where they heard about the many projects that Taya Davies is involved with, and the ways in which she is committed to helping vulnerable young Victorians.  The Governor delivered opening remarks to attendees of the Australia India Council Women in Business Seminar, where she spoke of the close relationship between Victoria and India. The Governor also spoke about the particular importance of opportunities for women business leaders from India and Victoria to meet, share ideas, and build relationships.  The Governor and Mr Howard have visited India to strengthen Government and business links many times during the Governor's term, most recently in 2018, and they have hosted the President of India at Government House. 
To mark the International Day of Rural Women, the Governor hosted a virtual reception for the Country Women's Association.  As patron of the CWA, the Governor has a long relationship with this incredibly important organisation – one that provides a connection and a means of support for many rural women.  The focus of International Rural Women's Day in 2020 is on building the resilience of rural women in a post-COVID-19 world.  This reception was a wonderful opportunity for the Governor to not only hear from members about many of the programs and initiatives the organisation has undertaken during the year, but to also thank members of the CWA for the support they provide to many Victorians.  Read more about this event here, and to learn more about the  CWA, visit their website.