Feature Image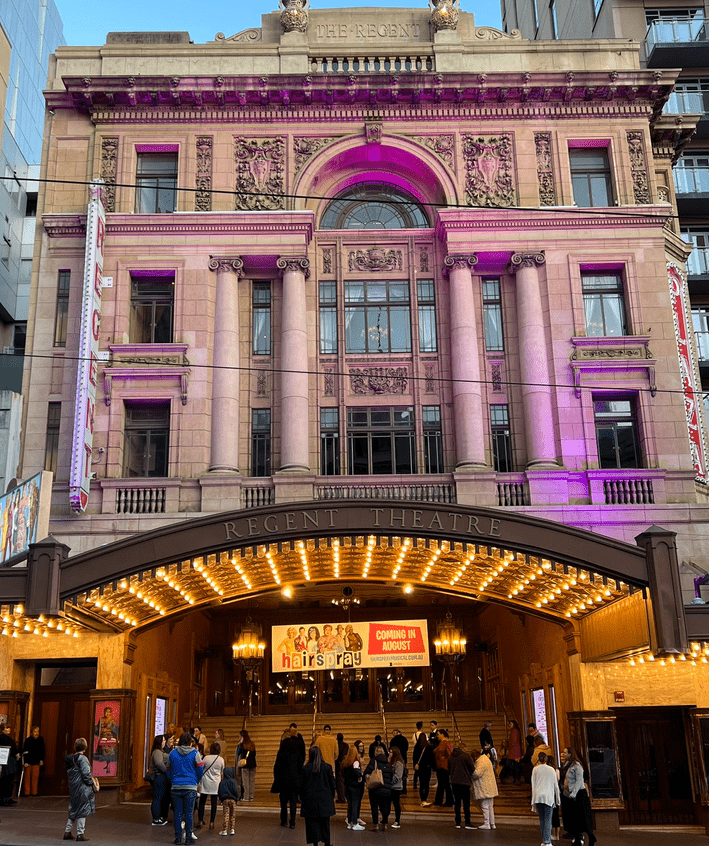 Introduction
The Vice-Regal program this week saw the Governor and Mr Howard meeting with Victorians from a cross-section of the community.
Body
This week's program began with the Governor and Mr Howard attending the opening night performance of Hairspray at Melbourne's Regent Theatre. Hairspray, a musical based on John Waters' 1988 film, first opened in Seattle in 2002 and moved to Broadway later that year. Monday's opening night performance in Melbourne marked to the day the 20th anniversary of the musical's debut.
Continuing her work promoting Victoria's engagement overseas, the Governor attended and spoke at a lunch for the Australia-Israel Chamber of Commerce. The Australia-Israel Chamber of Commerce is a national business organisation that aims to foster bilateral trade between Australia and Israel. The lunch was an opportunity to hear from business leaders and promote Victorian trade and investment.  
Also this week, the Governor, as Deputy Prior of the Order of St John, and Mr Howard hosted an investiture ceremony for the Order of St John in the ballroom at Government House. The annual event serves to admit and promote members to the Order of St John. The Governor, in her address, acknowledged and thanked the investees for their service and kindness to Victorian community. Read more of the Governor's speech here. To learn more about the Order of St John and the work of St John Ambulance please visit here.
The end of the week saw the Governor tour Melbourne General Cemetery in Parkville. The Cemetery opened in 1853 and was the first cemetery in Victoria also designed as a public park. The Cemetery has some notable internments, including Governor-General The Right Honourable Sir Isaac Alfred Isaacs GCB GCMG PC; Governor of Victoria Sir Charles Hotham RN KCB; Prime Ministers, including Sir Robert Menzies KT AK CH QC; several Victorian Premiers, as well as Burke and Wills. The visit was an opportunity to learn about the contemporary work of the Cemetery, and to tour key areas including the Holocaust monument and St Michael's Mausoleum.
The Governor also received a variety of callers during the week, including Launa Inman, Chair, and Caroline Ralphsmith, new CEO of the Melbourne Fashion Festival; Virginia Burke, Former Chair and Director, and Mr Mark Engel MStJ, Chair of St John Ambulance Victoria; and Hal Hallenstein of Jewish Bereaved Parents Inc.
Finally, this Thursday was Vietnam Veterans' Day, with this year marking the 60th anniversary of the beginning of Australia's involvement in the Vietnam War. The Governor, accompanied by Mr Howard, attended and gave an address at the annual commemoration at the Shrine of Remembrance. Read more about the day here.