Feature Image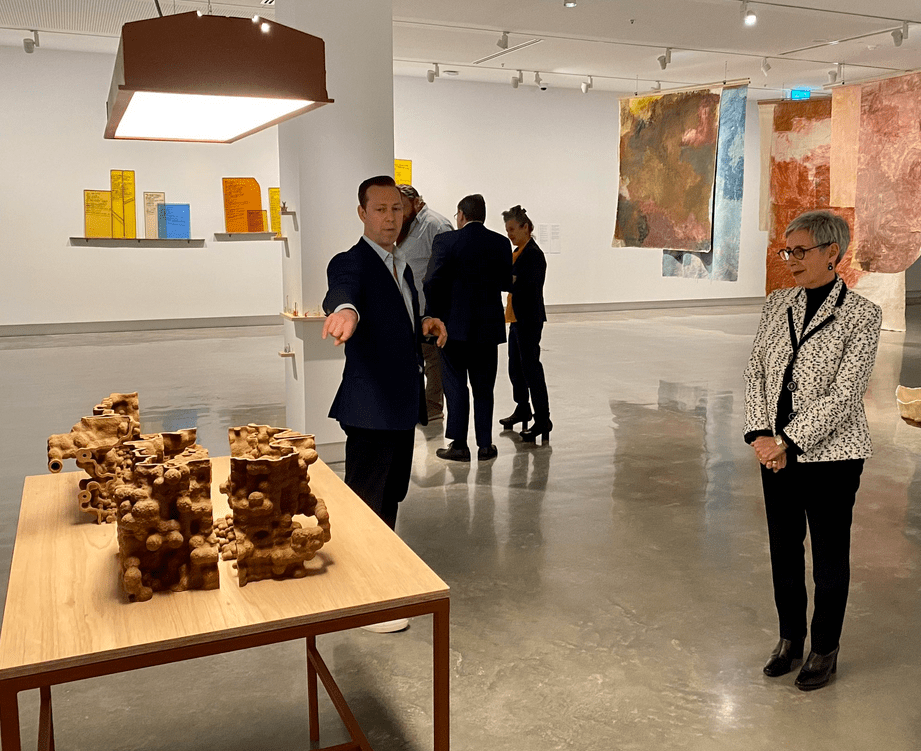 Introduction
The Vice-Regal program this week saw the Governor and Mr Howard meeting with Victorians from the creative industries, business, the judiciary and the not-for-profit sector.
Body
The Vice-Regal program began this week with the Governor and Mr Howard touring Buxton Contemporary, a contemporary art museum located at The University of Melbourne's art school, the Victorian College of the Arts. The visit was an opportunity to learn about the museum's work and tour the current exhibitions, Still Life and Susan Jacobs: The Ants are In the Idiom exhibition. To read more about Buxton Contemporary and the exhibitions currently on show, visit here.
The Governor and Mr Howard this week hosted a reception for members of YPO Gold Melbourne. YPO is a worldwide leadership community of chief executives with approximately 30,000 members in more than 130 countries. Each year, YPO holds a Learning Year based around a particular theme, with this year's theme being 'Emerge'. At the reception, the Governor gave an address and spoke of the possibilities available to Victoria and the world as we emerge from the pandemic. Read more of the Governor's speech here.
Mr Howard also led a tour of the State Apartments with Hansen Scholars. The University of Melbourne's Hansen Scholarship is awarded to undergraduate students whose financial circumstances present a challenge to accessing a first-class education. The scholarship is supported by The Hansen Little Foundation. The tour was offered as part of the Government House community tour program, led by Mr Howard and senior members of the Government House staff, tours offer a unique insight into the constitutional, ceremonial, international and community engagement duties of the Governor. To learn more about the Government House community tour program please visit here.
The Governor also received a variety of callers throughout the week, including His Excellency Mahmoud Zayed, Ambassador of Egypt; Naomi Milgrom AC, Executive Chair and CEO, Sportsgirl/Sussan Group; Roisin Annesley QC, President of the Victorian Bar; Andrew Young, Clerk of the Legislative Council and Clerk of the Parliaments; Tim Ada, Deputy Secretary Economic Policy and State Productivity Group; Professor Duncan Maskell, Vice-Chancellor and Chief Executive Officer of the University of Melbourne; and Dr Sushil Kumar, Consul General of India.
Coinciding with Book Week 2022, the Governor and Mr Howard welcomed to Government House students from Oakleigh South Primary School to participate in a Kids' Own Publishing workshop. Read more about the day here.
The week concluded with the Governor and Mr Howard attending a dinner for the Criminal Bar Association.