Feature Image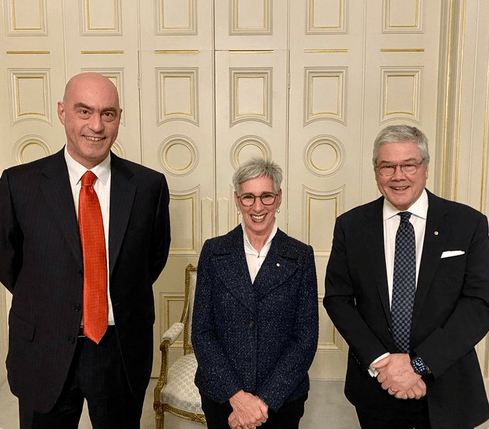 Introduction
The Vice-Regal program this week saw the Governor and Mr Howard connecting with members of the community from a variety of fields and sectors.
Body
The Vice-Regal program this week commenced with the Governor and Mr Howard hosting His Excellency Paolo Crudele, Ambassador of Italy, and Hanna Pappalardo, Consul-General of Italy, at Government House. Victoria is home to the largest Italian-born community in Australia and it was the Ambassador's first official visit to the State. The visit was an opportunity to welcome the Ambassador and to discuss a range of issues related to the Victoria-Italy bilateral relationship.
The Governor, accompanied by Mr Howard, also attended and gave an address at the State Memorial Service for Judith Durham AO at Hamer Hall. A classically trained pianist, Judith Durham was best known as the lead singer of 1960s folk/pop group The Seekers. She is remembered for her contributions to the Australian and international music scene as well as for her philanthropic work. At the service, the Governor spoke both of Ms Durham's significant achievements across her career, as well as her reputation for kindness and friendship. Read more of the Governor's speech here.
The Governor also received a variety of callers throughout the week, including Shimada Junji, Consul-General of Japan in Melbourne; Tim Ada, Deputy Secretary for Economic Policy and State Productivity, Department of Premier and Cabinet; Susan Oliver AM, Chair of the Alice Anderson Fund; and John Bradley PSM, Secretary of the Department of Environment, Land, Water and Planning.
Finally, this week the Order of Australia Queen's Birthday Honours investiture ceremonies took place at Government House Victoria. Read more about the ceremonies and those recognised here.