Feature Image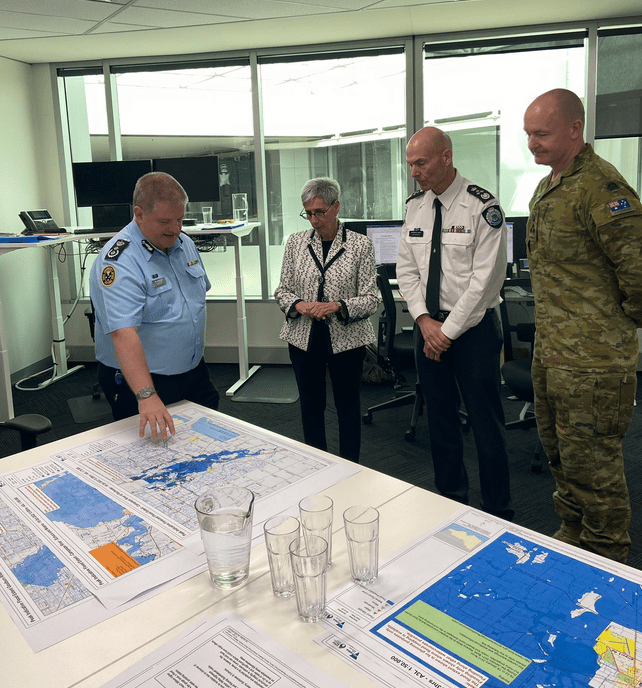 Introduction
This week, the Governor and Mr Howard met with Victorians from a range of industries and sectors. The Governor also connected with representatives from Local Government Areas that have been impacted by the floods in the State.
Body
Since last week, Victoria has been experiencing extreme flooding. Many parts of the State have been affected, from regional areas to the inner city. On Friday, the Governor visited the Emergency Management Victoria State Control Centre, where she met with Commissioner Andrew Crisp APM and was provided an update on the situation across the State. The Governor also met virtually with representatives from councils affected by the floods, including Maribyrnong City Council and Bendigo City Council.
Earlier in the week, the Governor and Mr Howard welcomed the latest cohort of the Peace and Prosperity Kitchen Garden Program to Government House. The Kitchen Garden Program, held every Monday during school term, is run in partnership with Community Hubs Australia and welcomes women from refugee and migrant backgrounds to Government House. The Program aims to assist the women in making connections with others in their local communities in forming friendships and support networks.
On Tuesday, the Governor and Mr Howard attended the State Funeral Service for Uncle Jack Charles at Hamer Hall. Uncle Jack Charles was a Boon Wurrung, Dja Dja Wurrung, Woiwurrung and Taungurung man. A member of the Stolen Generation, he was also a highly respected Elder, actor, musician, potter, and gifted performer.
The Governor and Mr Howard hosted a number of engagements at Government House this week. On Wednesday, a morning tea to celebrate Trust for Nature's 50th anniversary, was held. Trust for Nature is one of Australia's oldest conservation organisations, and the event was an opportunity to recognise the important work it has conducted across half a century. The Governor gave an address at the event, acknowledging the achievements of the organisation, including protecting over 100,000 hectares of land and many animals and plant species. Read more of the Governor's speech here.
The Governor and Mr Howard also held a reception to officially welcome the men's Indian Cricket Team to Melbourne, as they commence their T20 World Cup campaign. Melbourne is the host city for the Indian team during the tournament, and the reception was an opportunity to welcome the team and celebrate the important bilateral relationship that exists between Australia and India. On Sunday, the Governor and Mr Howard also attended the Indian team's first match, where they played Pakistan at the MCG.
Across the week, the Governor also received a variety of callers, including Louis Le Valliant, Director and Curator of The Johnston Collection; and Alex Zaccaria, Co-Founder and CEO, Anthony Zaccaria, Co-Founder, and Nick Humphreys, Co-Founder of Linktree. Mr Howard also conducted a tour for the International Parents Group of Brighton Grammar School; and on Friday evening, the Governor and Mr Howard held a dinner for Dr Eyal Zimlichman of the Sheba Medical Centre.