Feature Image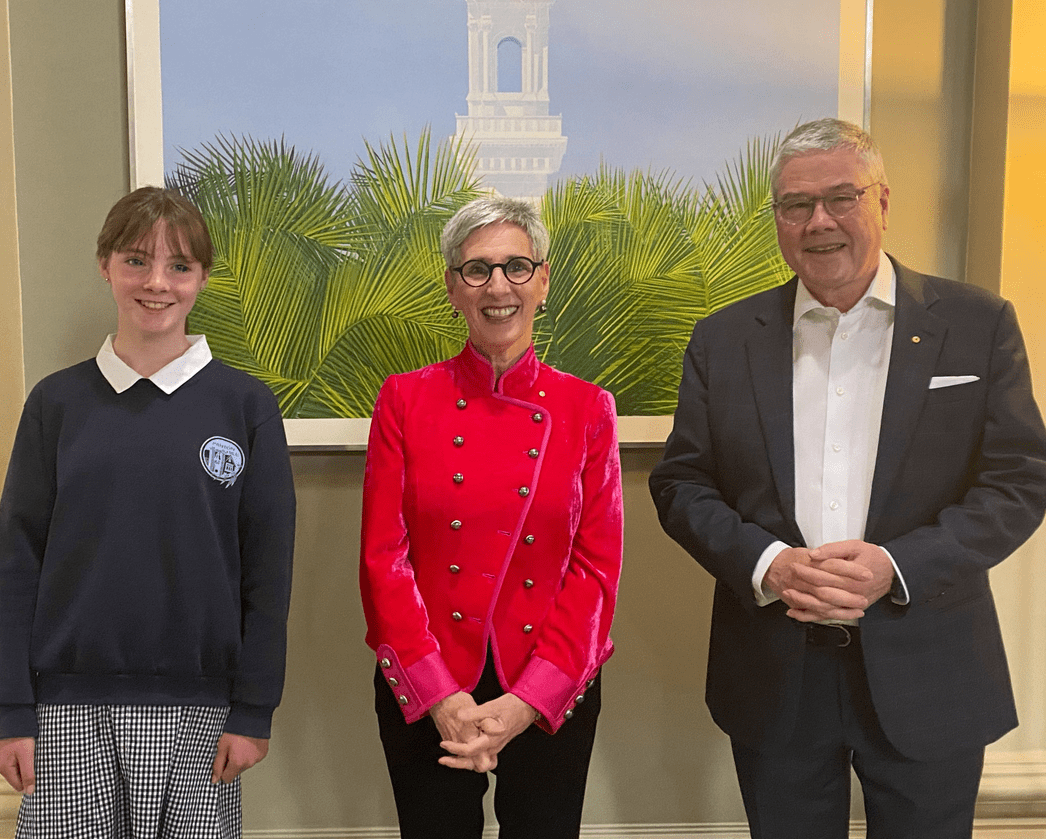 Introduction
With floods continuing to impact Victoria, the Governor met with representatives working with impacted communities, as well representatives from a range of other industries and sectors.
Body
Victoria continues to be heavily affected by flood conditions across the State. Building on last week's meetings with representatives from Local Government Areas impacted by the floods and the Governor's visit to the Emergency Management Victoria State Control Centre, this week the Governor and Mr Howard met virtually with representatives from Disaster Relief Australia and the Rapid Relief Team. The meetings were an opportunity to learn more about how the community is responding and understand the experiences of those impacted.
This week also saw the return of the Mini Governor program to Government House. The Mini Governor program provides a young primary school student the opportunity to experience what life is like for the Victorian Head of State, by shadowing the Governor for a day. This year's Mini Governor, Charlotte, attended the Victorian Senior of the Year Awards, which recognised both 2021 and 2022 recipients. Charlotte gave an address at the ceremony, where she spoke of the invaluable contribution made to the community by seniors. The Governor and Charlotte also visited the National Institute of Circus Arts and received the call of Charliese Allen, the Young Archie Winner for 2021.
The Governor and Mr Howard also hosted the Victorian Multicultural Awards for Excellence. The Awards aim to recognise individuals and organisations whose work or volunteering has contributed positively to the community and to the successfulness of Victoria's multiculturalism. At the Awards, the Governor gave an address and spoke of how 'a successfully cohesive community is something that requires continuous attention and care…' and that we should 'maximise the chance to learn from each other, and to see that every one of us can share in the full range of opportunities that our country, our State, our cities and our regions can offer.' Read more of the Governor's speech here.
On Thursday, in her role as Chair, the Governor hosted the Victorian Rhodes Scholarship Selection Committee meeting, where Harrison Jones was selected from four outstanding candidates as the 2022 Victoria Rhode Scholar. Two other candidates, India Marks and William Chua, were also selected for the scholarship's Australia-at-large round, taking place in Canberra soon.
On Friday, the Governor and Mr Howard hosted the Graduation Ceremony for the McKinnon Institute Advanced Political Leadership course. The McKinnon Institute is non-partisan and is dedicated to enhancing the effectiveness of political leadership. The Advanced Political Leadership course sees members of parliament from across the country prepare for future leadership roles.
The program also saw the Governor and Mr Howard attend numerous external engagements throughout the week, including a commemorative dinner for Her Majesty Queen Elizabeth II held by the Victorian Bar, the Victoria Racing Club Chairman's Dinner launching the renowned Melbourne Cup Carnival, and Derby Day.