Feature Image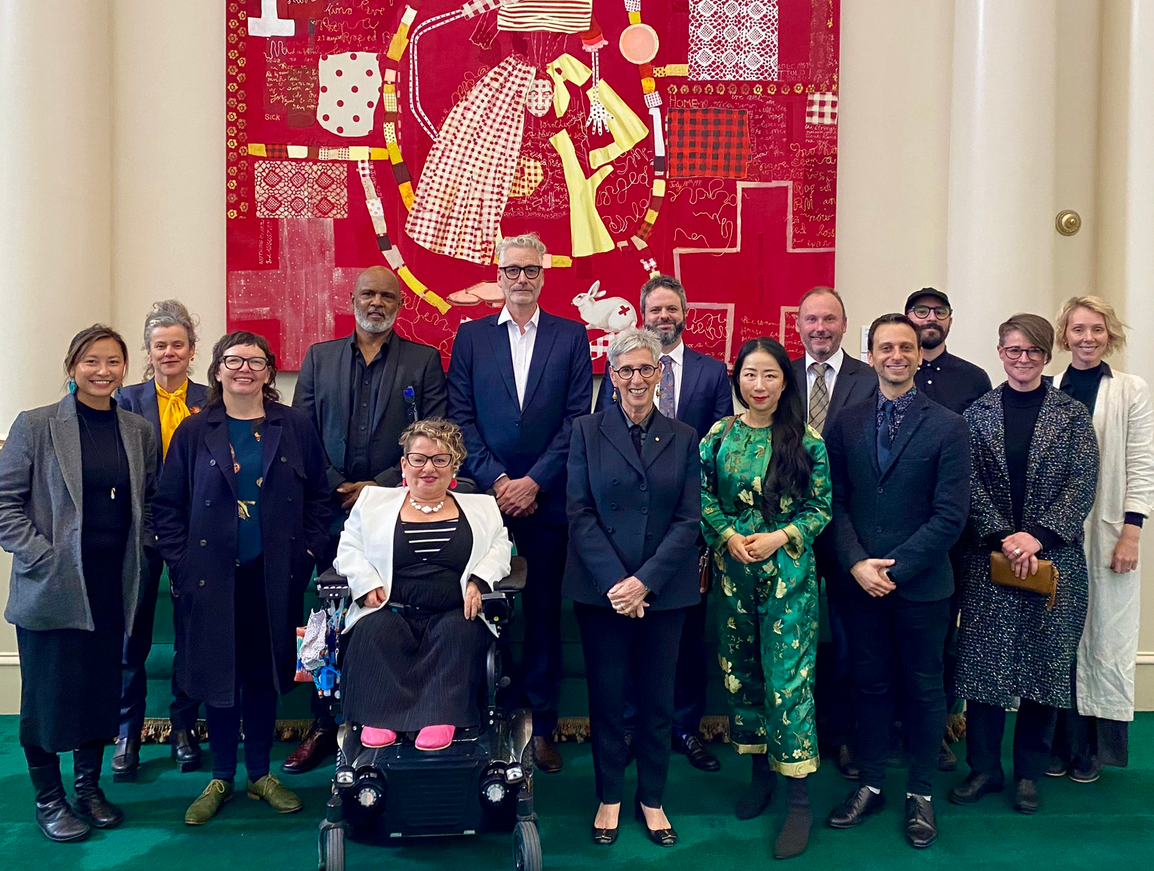 Introduction
This week, the Governor met with representatives from a range of sectors, including the creative industries, manufacturing and higher education.
Body
The Vice-Regal program this week saw the Governor engaging with industry leaders from a variety of sectors. The week commenced with the Governor hosting a lunch and roundtable for representatives from the Creative Industries. Creative Industries encompass disciplines as diverse as games development and filmmaking; industrial design and fashion; performing arts and comedy, to name but a few. Collectively the industries contributed $31.6 billion to Victoria, or 6.9% of the total economy, and have contributed immeasurably to the social, cultural, and artistic vibrancy of the state. The lunch was an opportunity to learn more about the diverse experiences of those working in the industry.
Later in the week, the Governor hosted a roundtable discussion with representatives from the Victorian manufacturing industry. The industry is a cornerstone of the Victorian economy. The State is home to 23,000 manufacturing firms, which employ more than 260,000 people and provide 30 per cent of Australia's manufacturing output. The round discussion complements a busy schedule of visits to manufacturing businesses which take place over the course of the year.
On Tuesday, the Governor continued her program of community dinners, a regular event which seeks to bring together diverse members of the Victorian community for collaborative discussion. Guests in attendance included representatives from academia, government, the arts and business.
This week, the Governor also attended the launch of the Contemplative Studies Centre at the University of Melbourne. The Centre, which focuses on the study of contemplative and mindful practices, seeks to provide the rigour of academic research and an evidenced-based approach to the already thriving industry. At the opening, the Governor gave an address, where she thanked donors Martin and Loreto Hosking of the Three Springs Foundation and their family for their generosity.
The Royal Humane Society of Australasia Bravery Awards were held this week, which seek to recognise those who act with bravery and who risk their lives to go to the rescue of the life of another. At the ceremony, at which five recipients received an award, the Governor gave an address and thanked the recipients, on behalf of all Victorians, for their courage and selflessness. To read more of the Governor's speech, please visit here.
Finally, the Governor hosted the Winston Churchill Memorial Trust Fellowship Presentation at Government House on Friday. The Trust, which was established in 1965 to honour Sir Winston Churchill's memory, awards fellowships to Australians to travel overseas to conduct research in their chosen field. The ceremony to present the Fellows with their awards takes place annually.