Feature Image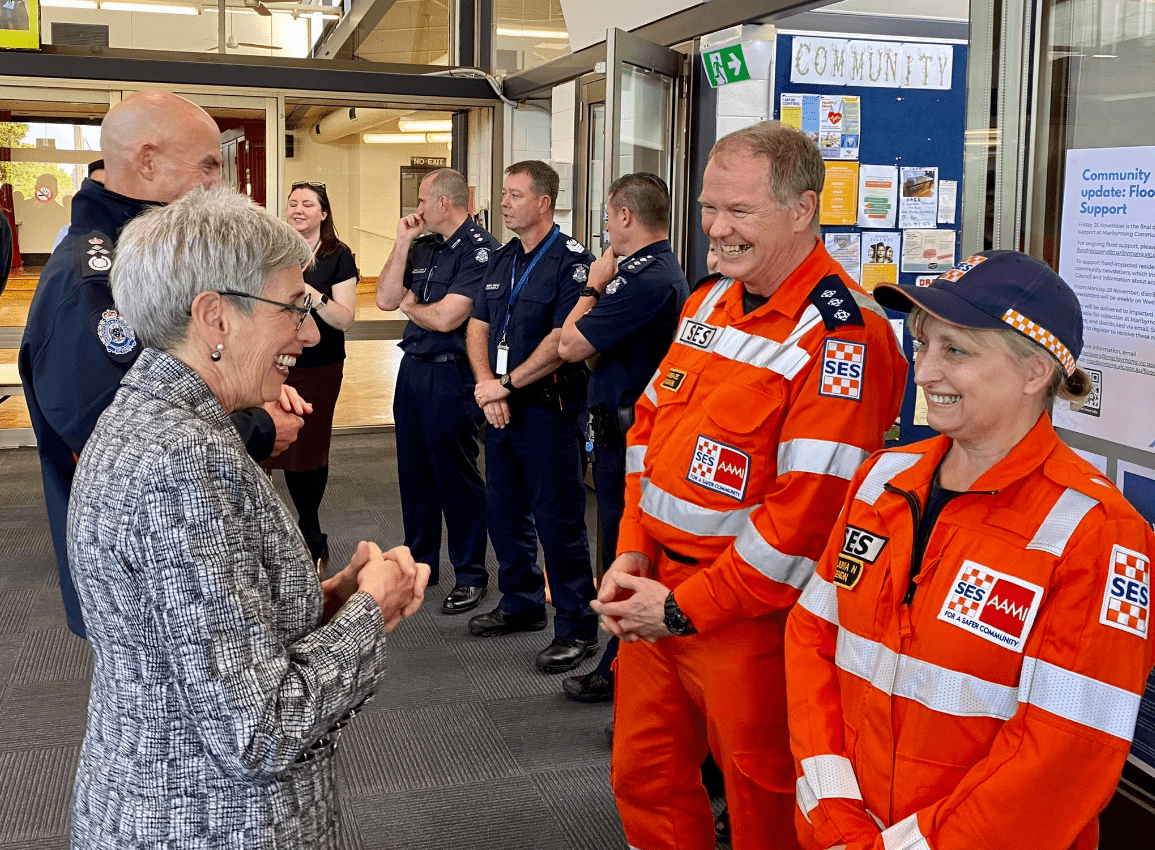 Introduction
The program this week focused on the health and medical research sectors, as well as international engagement. The Governor also met with representatives from Maribyrnong City Council. 
Body
The Governor's program this week commenced with a visit to Maribyrnong City Council. The Maribyrnong Local Government Area was heavily affected by the recent floods in Victoria. On the visit, the Governor met with Cr Sarah Carter, Mayor and Celia Haddock, CEO of Maribyrnong City Council, as well as Andrew Crisp APM, Commissioner of Emergency Management Victoria, to receive a briefing and tour of flood-affected areas. The Governor also had an opportunity to meet with residents and business owners impacted by the floods and members of the emergency service who provided, and continue to provide, assistance.  
On Wednesday, the Governor hosted a morning tea to celebrate the establishment of HER Centre Australia. Headquartered at Monash University, the Centre  will research, understand and treat a range of conditions affecting women such as menopause, menstrual cycle-related mood disorders, complex PTSD, eating disorders, family violence, body dysmorphic disorder and postpartum depression. The morning tea was an opportunity to hear more about the new centre and celebrate its important work. 
The Governor this week also hosted the Murdoch Children's Research Institute for a panel discussion on global health issues for children. Moderated by Professor Kathryn North AC, (Director of MCRI) panellists Dr Daniel MacArthur (Director, Centre for Population Genomics), Professor Sharon Goldfeld (Director, Centre for Community Health, Royal Children's Hospital) and Liana Buchanan (Principal Commissioner for Children and Young People, Commission for Children and Young People) discussed a range of public health issues impacting children both internationally and locally. It was the third in a series of public lectures hosted by the Governor at Government House, following a lecture on Environmental Science held in 2019, and a lecture on Global Health in 2018. The Governor gave an address prior to the panel, where she remarked on the invaluable contribution made by MCRI to the medical research sector. Read more of the Governor's speech here. 
International engagement on behalf of the State continues to be an important aspect of the modern role of the Governor. This week, the Governor welcomed His Excellency Mr Vương Đình Huệ, President of the National Assembly of Vietnam and delegation to Government House. It was an opportunity to further advance Victorian and Vietnamese people-to-people and two-way trade connections. 
During the week, the Governor also received the call of Agus Yudhoyono, Chairman of the Democratic Party, Indonesia.