Feature Image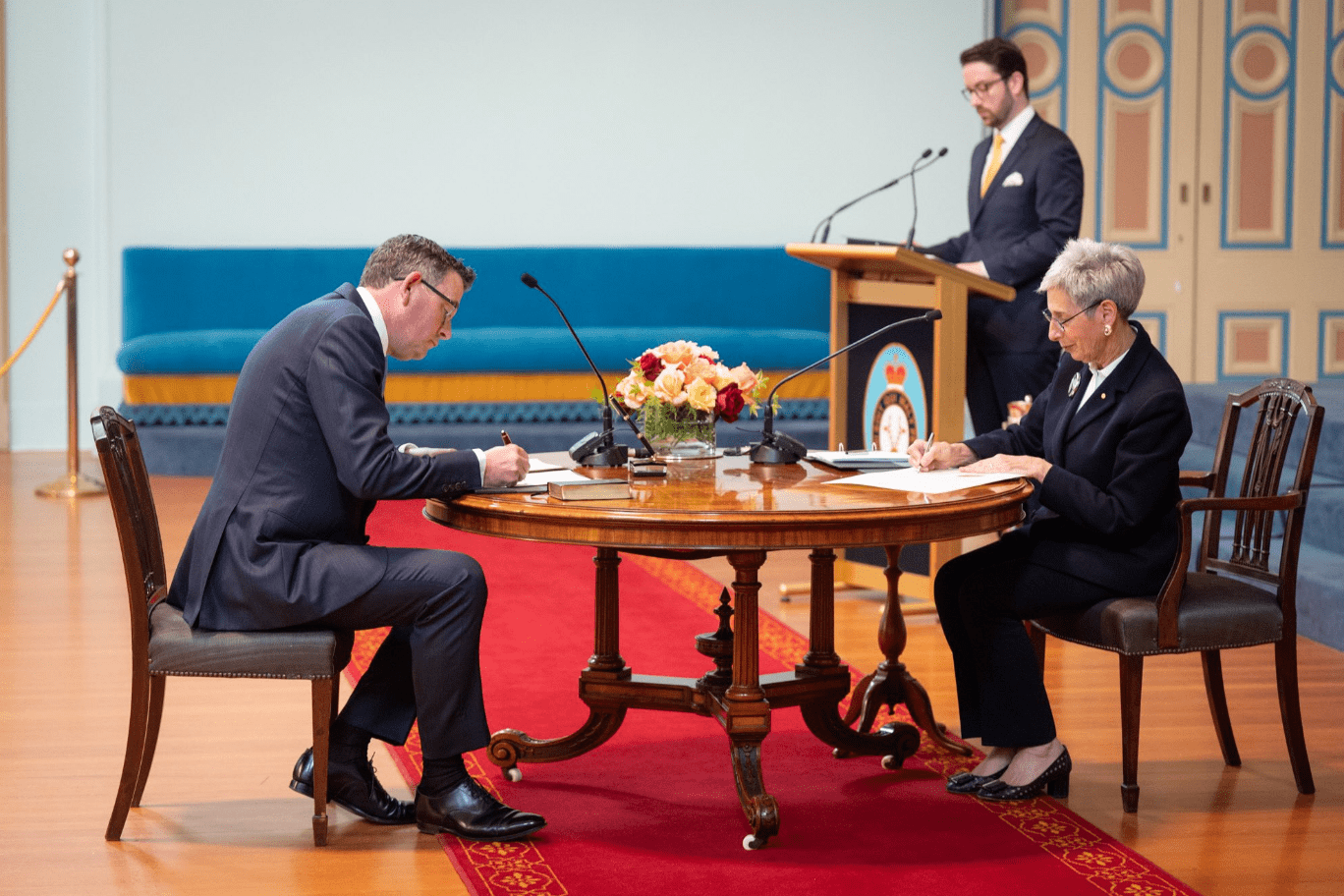 Introduction
This week, the Governor conducted a swearing-in ceremony for the third Andrews Ministry and met with representatives from a range of industries.  
Body
On Monday 5 December, Her Excellency, the Honourable Linda Dessau AC, Governor of Victoria, commissioned the Honourable Daniel Andrews MP as Premier of Victoria, and swore in the third Andrews Ministry in a ceremony at Government House. The Premier and Ministers were sworn in, in the presence of their families and friends.
The commissioning of a new Government is a core responsibility of the Governor's constitutional work, which also includes calling an election, chairing the Executive Council, giving Royal Assent to bills passed by both Houses of Parliament, and, in exceptional circumstances, dissolving the Legislative Assembly. Learn more about the Governor's role and the constitutional responsibilities that the role entails here. 
On Tuesday, the Governor hosted a roundtable with representatives of the Victorian hospitality industry. Hospitality is a part of the state's broader tourism industry which generates 120,000 jobs and $10.7 billion for the state. The industry also contributes significantly to the social and cultural vibrancy of Victoria. The lunch was an important opportunity to learn more about the diverse experiences of those working in the industry over recent years.
The Peace & Prosperity Kitchen Garden Program continues to be an important element of the Governor and Mr Howard's community engagement. Working in conjunction with Community Hubs Australia, the program provides the participants with an opportunity to enjoy the company of other women in an inclusive environment and to build social connections, develop an increased sense of belonging in their community and to practise their English language skills. This week, the Governor and Mr Howard, hosted an end of year morning tea for participants of the 2022 program. The Governor thanked participants for their active engagement in the program, which saw groups from Wyndham, Casey and Dandenong take part, with some 18 different countries represented. Read more of the Governor's speech here.
Later, Mr Howard attended the end of year celebration for the Melbourne Indigenous Transition School. MITS is a specialist boarding school that delivers a Year 7 program to indigenous students from remote and regional communities in the Northern Territory and Victoria. Mr Howard has been involved in the MITS program over a number of years meeting with MITS students from the 2017, 2018 and 2019 cohort.
Finally, the Governor and Mr Howard attended a farewell for the Hon Justice John Eric Middleton AM at the Federal Court of Australia. During the week, Mr Howard also conducted tours of the State Apartments for members of community sporting groups.