Feature Image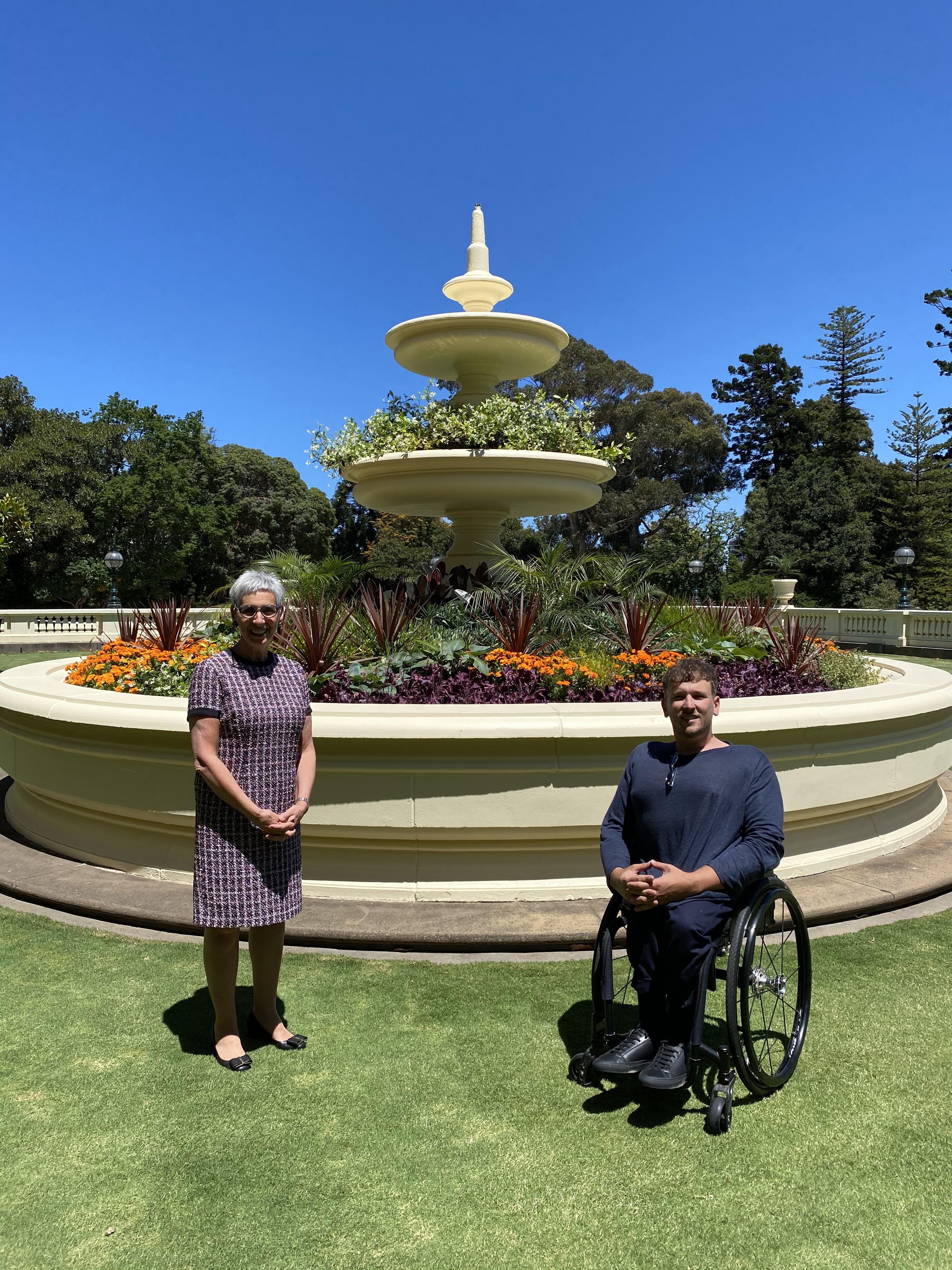 Introduction
The Vice-Regal program continued to this week, with intimate investitures of Australia Day and Queen's Birthday Honours continuing to be a central part of each week's activities.
Body
Among those honoured this week were Mr Jim Markovski OAM, for his service to youth through his work with both the Les Twentyman Foundation and other community organisations, Ms Gaye Berryman AM, for her significant service to education, literacy and to the community, and Ms Margaret Primmer OAM, who was honoured for her service to women and to the community, through her involvement with the Country Women's Association for nearly sixty years, as well as many other community organisations.
Others who received honours this week included Mr John Harvey OAM, for his service to motorsports throughout a long and distinguished career, and Ms Desiree Yap AM, who was made a Member of the Order of Australia for her significant service to women's health, and to medicine, as a past Chair of Women's Health Victoria, past president of the Australian Federation of Medical Women, and many other organisations.
In addition to the continuing investitures, the Governor also had the opportunity to host an increased number of in-person meetings at Government House, including meeting with Grand Slam tennis champion Dylan Alcott OAM. Dylan is one of Australia's best-known and most decorated athletes.  He has won Olympic gold medals with both the Australian Wheelchair Basketball Team, and in Tennis singles and doubles.  He holds six Australian Open titles, and in 2016, was the first Para-athlete to be awarded Tennis Australia's Newcombe Medal.  During the call, the Governor had the opportunity to hear about the great work of the Dylan Alcott Foundation. Through a series of grants, scholarships and a mentoring program, the Foundation is helping young Australians with disabilities overcome the barriers to entry in sport and education. To read more about Dylan's impressive career both on and off the basketball and tennis courts and about the Dylan Alcott Foundation click here.
The Governor's virtual program also continued this week, where the Governor delivered a keynote address at an event hosted by the Committee for Melbourne, looking ahead to life in Melbourne beyond COVID-19 - read more about the Committee for Melbourne and this event here.  The Governor also virtually hosted the Royal Humane Society Bravery Awards. Since 1874 these annual awards have honoured Victorians who display immense bravery in the face of danger to themselves or others.  Visit this page to read more about these Bravery Awards.
This week, the Governor met with the co-founders of Mr Yum, a Melbourne-based online order and customer registration platform which has enabled many restaurants and hospitality businesses to pivot to an online-order and home delivery model during COVID-19.  Mr Yum is used by over 1 million customers per month, and is utilized by more than 500 restaurants and hospitality venues.
Since its inception in 2018, Mr Yum's client base steadily increased, and with the COVID-19 restrictions in place for most of 2020, the company saw a marked increase in take up of its platform among businesses eager to adapt, and be able to continue to trade in a vastly different environment.  The web-based platform does not require users to download an app for use, and allows the customer to choose which method of ordering suits them best, allowing the restaurant to focus on their core business while ensuring customers are given the best experience possible.
To learn more about Mr Yum, visit their website.