Feature Image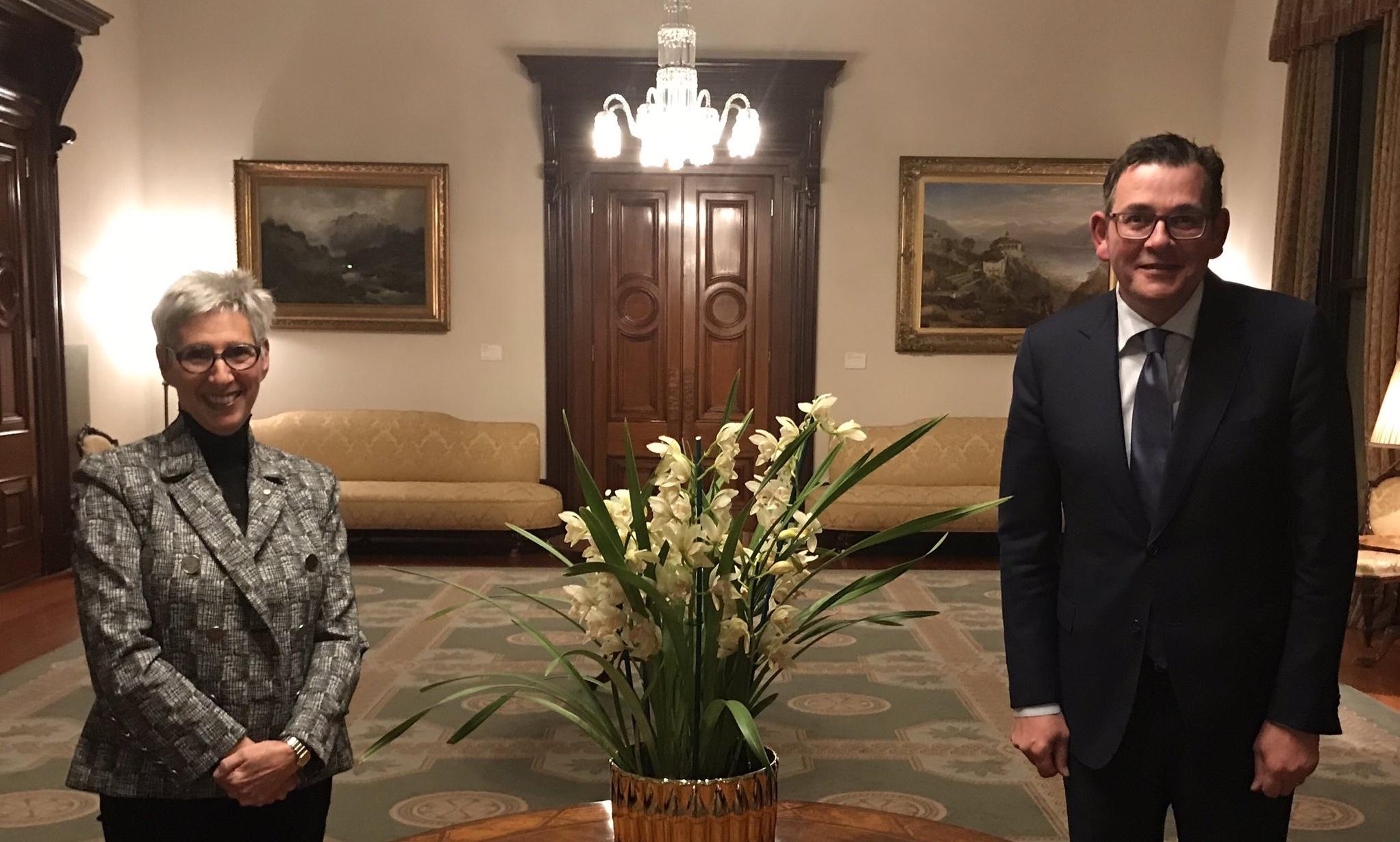 Introduction
This week, Government House once again welcomed visitors in person – and at a distance – for the first time since March 2020
Body
Regular meetings between the Governor, the Premier and Victoria's Ministry are an important part of our constitutional tradition. On Wednesday of this week, the Governor met with the Premier, the Hon. Daniel Andrews MP, in person for the first time since the outbreak of COVID-19 in March 2020. The meeting with the Premier was followed on Friday by a meeting with the Victorian Treasurer, the Hon. Tim Pallas MP. Although the Governor and Mr Howard have been very active in keeping in touch with all aspects of Victorian society during COVID-19 using technology, these two meetings mark the welcome return of guests in person to Government House, a return that will continue and gradually expand in the coming weeks.
The Governor had the pleasure of meeting one of Victoria's oldest residents, when she virtually attended the 100th birthday celebrations of Mr Harold Chatfield.  One of the highlights of the annual calendar of events at Government House is the annual morning tea that the Governor and Mr Howard host in honour of Victoria's centenarians.  In 2020, sadly, this event cannot take place, so the Governor was very pleased to have had opportunity to speak with Mr Chatfield and his family, to wish him a very happy birthday on this incredible milestone.
The Governor also continued with her program of virtual visits, and was joined by Mr Howard when they spoke with the COVID-19 Case Contact and Outbreak Management team, to hear about the very important job they are doing In trying to minimise the spread of COVID-19. Contact tracing is one of the key ways in which Victoria has been able to identify and isolate infection clusters, and both the Governor and Mr Howard were very pleased to have had the opportunity not only to hear about the process involved, but to pass on their thanks on behalf of all Victorians for the work the team is doing to help keep us all safe.
Among the other virtual calls and meetings this week, the Governor continued to meet with representatives from organisations, such as Melbourne Airport, and Alpine Resorts, who have had to rapidly adapt to the changing situation the travel and tourism industry finds itself in.  The Governor was very pleased to hear from these organisations about how they intend gradually to welcome more members of the public to their facilities and places of business, while still working to keep Victorians safe.
Programs initiated by the Office of the Governor to foster greater connection between Victorians are also ongoing, with the Governor's Letter Writing Program receiving some wonderful replies from recipients who have felt especially isolated from their communities for a variety of reasons while social distancing measures have been in place. To read more about the Governor's Letter Writing Program, visit this page.