Feature Image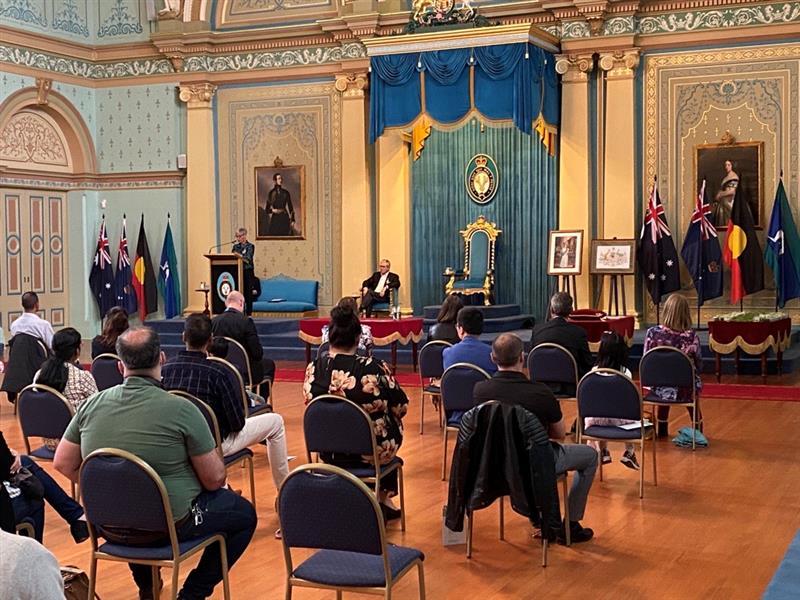 Introduction
Speech given by the Governor for the Australia Day Citizenship Ceremony
Body
First, I acknowledge the Traditional Owners of the land upon which we are gathering, and I pay my respects to their Elders past and present and to any Elders who are here with us.
As we create some of Australia's newest citizens today, it is important that we do acknowledge the first Australians. They have lived on and cared for this land for more than 60,000 years, and our contemporary Victorian community can be informed by the wealth of Indigenous culture, as we forge our State's future together.
Well, what a wonderful reason to gather at Government House today, even in the rain, to celebrate some new citizens of Australia, on this our national day.
We welcome all of you – individuals and families – from some 24 countries in total.
We know that you arrive at this point with different stories: different experiences, different journeys to Australia, and different reasons for coming to live in Victoria. Some of you, I know, will have been here a long time, some will have arrived more recently.
Whatever your story so far, we welcome you, and we are proud and happy that you have chosen to become a part of us, by joining our Australian family.
It is a family that is truly diverse, with almost one third of us born overseas, and nearly half of us either born overseas or with one parent who was born overseas.
In fact, we come from around 300 different national ancestries. But, as we sing the Australian Anthem today, the word change, introduced just in this new year, will resonate with your new citizenship, as we sing that we are 'one'. We are all together.
As our newest Australians, you will from today be a part now of our nation's aspirations and triumphs.
We are grateful that you bring to us your rich cultures, your knowledge, your skills and your enthusiasm for and commitment to our values. In some instances, you bring your growing families too.
As this new year starts, amidst the obvious continuing challenges of the global pandemic, we know that, just as the contributions of Victoria's migrant communities have been such a fundamental part of Victoria's successes for many decades now, your contributions will be especially important as we recover.
And so we are delighted today to be able to congratulate you on what will shortly be your new status as citizens of Australia.
We hope that you will enjoy your time here at Government House, the music played by the Royal Australian Navy Band and the refreshments, including those provided by some wonderful Victorian organisations: the Country Women's Association, the Lions Club Carnegie and the Sikh Volunteers.
Finally, and most importantly, on this special occasion, we wish you and your families, in the words of Victoria's State motto, Peace and Prosperity.