Feature Image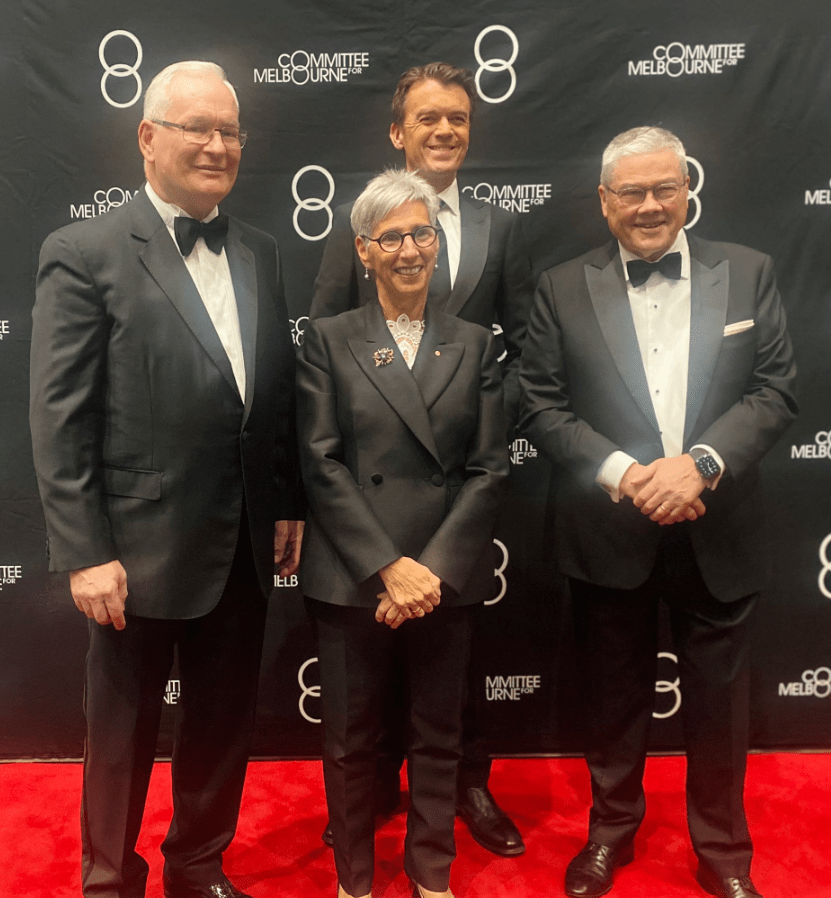 Introduction
Speech by the Governor at the Committee for Melbourne Annual Dinner.
Body
First, I acknowledge the Traditional Owners of the land on which we gather and pay my respects to their Elders, past and present, and to Elders of other communities who may be with us.
It is a particular pleasure for us to attend and for me to speak at this dinner this evening. It acts as a sort of bookend for me in my time as the Governor.
In 2016, I addressed this dinner for the first time. I spoke of the Melbourne of my childhood, the Melbourne of 2016 and briefly projected as to the Melbourne of the future.
As to the latter, some of my projections were right. That is, the ones that were probably pretty obvious, including: the impact of digitalisation, the impact of entrepreneurship and the global growth of the middle class.
Like any lawyer, I hedged my bets, saying that the disruptive forces of technology made projections shaky, so that it was harder and harder to know what we didn't know about the future.
It turns out that what was probably a rather lame motherhood statement in that regard was actually more prescient than any of us could have foreseen.
The not-too-distant global pandemic was something we certainly didn't know was shortly going to hit. And, although I mentioned in passing, pressures on our health system and changes in work practices, I can't claim to have had any deep appreciation of just how profound the impact of those two considerations would become.
This evening, addressing a group that has turned its mind to the impact of the pandemic and the measures for recovery, I don't propose trying to add to your already impressive body of work in that regard.
Instead, I want to share just a few of the things I've learned about our city and our State across the last eight years in this role.
I have to start by saying that I THOUGHT I knew this State well. Overall, the courts, contrary to some popular opinion, teach a judge a great deal about what is going on, how people live, their triumphs and their challenges and where resources are short or inadequate.
My education was, I thought, reasonably rounded out with involvement in the AFL, the arts, schools, a hospital and a range of not-for-profit boards and patronages.
Of course, the reality is that one's education is never complete. Happily, I have learned so much more in this role (and thank goodness, I know I will keep learning).
And, although I appreciate that the Committee for Melbourne acts within certain borders, you'll need to forgive me for crossing outside them in my brief observations.
As the Governor, the connection between city, metro and regions is immutable when it comes to my overview.
So, in no particular order.
CLEVER STATE
We are clever in this State. Cleverer than most Victorians probably realise. Most would not turn their minds to our cyber security credentials, our advanced manufacturing in componentry and materials for defence and aerospace or our exceptional expertise in med-tech, bio-tech and life sciences. 
The relatively new Cumming Global Centre for Pandemic Therapeutics is a great example of the latter.
I am sure that you are aware that businessman and philanthropist, Mr Geoffrey Cumming, a Canadian and New Zealand citizen, has donated $250 million to the University of Melbourne to establish the new Centre. It is the largest philanthropic donation to medical research, and one of the largest gifts in Australia's history.
Mr Cumming has explained that he chose Melbourne over other leading centres of medical research, because of the breadth of talent in the ecosystem of the medical research precinct here, the collegiality of all the players and the scale and enduring nature of medical research investment by successive Victorian Governments.
The Cumming Centre is also a testament to something else which is a stand-out in this State. Philanthropy.
PHILANTHROPY
Melbourne and Victoria would not be as we are without the vision and generosity of our philanthropists, past and present.
In many instances, many of our hospitals, galleries, libraries, museums, gardens, zoos and schools – amongst other places – would simply not exist in their current form or be able to offer their broad range of programs without them.
Governments can and must provide. But they can only do so much to meet demands.  Time immemorial, the generosity of individuals and organisations have added to the richness of our community life.
UNIVERSITIES
Another thing I have discovered! Universities matter. Of course, we all know that. Many of us attended one. We know they matter for teaching and for research.
But it has only been in this role that I have come to understand just how much they also matter  beyond that.  
We see it in the role they play in forging international links: how often our universities are the first into a region, at the vanguard of diplomacy.
We see that our academics can be the best collaborators, their joint work transcending the ebb and flow of the geopolitics of the day.
And we see how the relationships that our universities foster through international students, so often form the basis of close business and political links of the future – with important cultural and economic dividends. 
I have seen up close our brilliant research credentials. I have also seen that our commercialisation of that brilliant research, although still wanting, is improving.
A huge fillip in this regard is the Breakthrough Victoria Fund.  
Again, as I am sure you are aware, the fund has been established by Government as a $2 billion investment to help make Victoria a global innovation leader. To that end, it  brings together investors, research institutions, governments and companies to commercialise innovations that create jobs in emerging industries, with an emphasis on health and life sciences, a clean economy, advanced manufacturing, agri-food and digital technologies.
Other important funds are now also in play, including the Tin Alley Venture Fund, Australia's first university-specific investment fund at the University of Melbourne.
VGTI'S
This role has given me a perspective on Victoria's position in international trade and investment.
There is no doubt that Victoria leads the country in our outward looking approach. Victoria was the first to have an Agent-General in London and the only State to have had that role almost continuously filled at Australia House.
We have by far the most extensive network of Government Trade and Investment Offices, with our 24th up and running in Paris. I have visited many of them and know the dedication and the reach of our expert Victorian and local staff.
We have always used our Governors for soft diplomacy – for the building of relationships. Copying being the best form of flattery, Victoria can be flattered that other States are now copying our approach in that regard.
CHALLENGES
Like elsewhere, our State has its challenges.
Quite apart from the universally experienced health, social and economic aftermath of a global pandemic, there is much that will always need our effort and commitment.
I think the pandemic showed us that, although we are a safe haven for so many, Australia and Victoria still need to work hard on settling those who join us from elsewhere.
At the worst of the pandemic, we saw quite starkly how many struggled with insecure work, overcrowded living or the understanding of complex public messaging.
As a nation, we will profit –  in the broadest sense – if we invest more to ensure that those who join us can quickly flourish as productive members of our economy and our community.
Across these last eight years, Tony and I have seen up close that the natural disasters that our State has experienced have very long tails indeed.
Long after the cameras have left, and many of us are privileged enough to get on with our lives, those in affected areas face the heartache, frustration and hard work to rebuild homes and communities.
In 2018, in my capacity as the Ambassador for the 10th anniversary remembrance of the Black Saturday bushfires,  Tony and I visited many of the affected parts of the State. We were struck by how palpable the hurt and pain of loss and the awfully protracted recovery process remained even after that passage of time.
Recently, we have seen it again, in areas affected by last year's floods.
CONCLUSION
And so I conclude by saying that our successes and achievements in this State are many. We should celebrate them and continue to grow them.
There are challenges too that we must rise to meet.
Thankfully, we are blessed with individuals and organisations that are committed to celebration, and to improvement. Without the mineral wealth enjoyed by some other parts of the country, we have had to be smart. And innovative.
We need many voices. Creative ideas. Reasoned discourse.
Thank you and congratulations to the Committee for Melbourne for adding the voice, ideas and discourse of your diverse membership group. Thank you too to the many of you here who, although not members, also contribute to – in the words of Victoria's State motto – our Peace and Prosperity.