Feature Image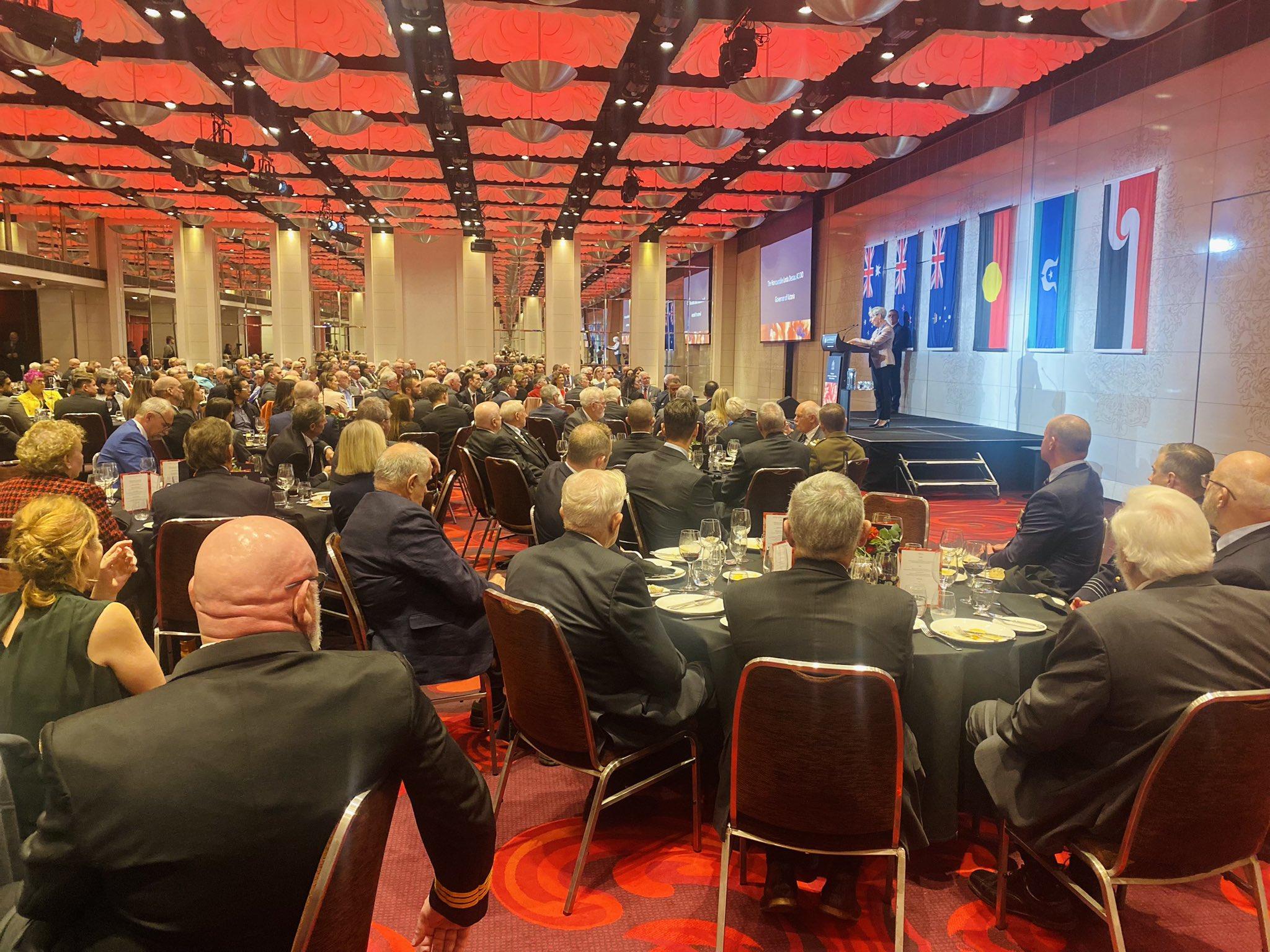 Introduction
Speech given by the Governor at the Premier's Anniversary of ANZAC Day State Luncheon.
Body
First, I acknowledge the Traditional Owners of the land on which we are gathering, and I pay my respects to their Elders, past and present, and to Elders of other communities who may be with us. 
As the 108th Anzac Day dawns next Tuesday, it will mark my 8th as the Governor of Victoria. This year, I will not be with you at the Shrine, but I have the privilege to be representing us in Gallipoli.
Representing our State on Anzac Day, and other days of commemoration, has been a highlight of my time in this role.
I was, from the outset, conscious that I came to it without any military background. I had not served. I had not lost a loved one in the service of our country. I did not have direct contact with many military families.
Three things happened in close succession, early in my term, that helped me learn.
The first was that, at my request, I received a special caller in my very first week as Governor.
Major-General David McLachlan AO, AO (Mil) (Retd) was the person I knew I needed to meet, if I were to understand and do justice to the thousands of men and women who had served. He was then the State President of the RSL. He was then, as he has remained since, a knowledgeable and generous guide to me.
He advised me on what to read. He accompanied me to Vasey RSL Care Brighton East to meet and hear from some of the older diggers. He has since been by my side in the preparation of many important ADF occasions since.
In 2016, the second important thing occurred. Again, the Major-General was central to it. He was – literally as well as figuratively – my guide, as we travelled through the battle sites and Commonwealth War Cemeteries on the Western Front.
It was a moving visit. The continuing respect and affection of the local people for our brave soldiers who fought so hard for them was obvious wherever we went.
Then. Thirdly.  In late 2015, we were privileged to host the Victorian VCs at Government House. Amongst them was a guest who had not received a medal. He joined us to represent his son.
Douglas Baird is the father of Corporal Cameron Baird VC MG. Cameron was killed in action on 22 June 2013, in the course of his fifth deployment to Afghanistan.
His dad left me a booklet to read about his son.
It introduced me not only to someone who had been a brilliant and courageous Special Operations Commando, but to a regular, good, Aussie kid. 
Like many, Cam loved AFL footy. Unlike most, he was a particularly talented player. He won his Club's Under 16 Best and Fairest, and was selected in the Victorian TAC league, where he played amongst youngsters who became household names: players like Jude Bolton, Ryan O'Keefe and Paul Chapman.
But Cam, at 19, chose to enlist in the Defence Force.
On three separate occasions, on that last day of his life, Cam had actively drawn fire away from his brother soldiers. His valour, his devotion and his self-sacrifice saved the lives of his friends, and saw him awarded the Victoria Cross, only the 100th such medal for an Australian soldier.
In addition to the booklet that I've described, Doug Baird gifted me a coin with Cam's photo on it. For the seven and a half years since, that coin has remained on my desk.
Cam, I know, had a note in his locker which read 'Aspire to Inspire'. He did that in more ways than he will ever know.
And so, when I have stood to represent our Victorian community at the Shrine, (and elsewhere around our State and in foreign lands where our soldiers lie), I have felt the pride that we can feel for all those who have and all those who continue to give service on our behalf. 
I have sensed – of course, only in the most peripheral way – the grief of those who've lost loved ones. And I've felt the overwhelming gratitude for all of them.
On 25 April 2020, I stood alone in the Sanctuary of our Shrine of Remembrance, but for one Shrine Guard.
There, almost every aspect of ceremony was stripped away. No massed crowds. No dignitaries.  No bands or choirs. No AV shows. Just the silence of remembrance filling that vast space and the stone around me.
As I returned to Government House on foot that misty morning, I could see my husband at the gate, holding a single candle. I knew that he was just one of the many thousands of Victorians who had come together … although apart … with that act of remembrance in driveways, on balconies and at farm gates right across our State.
They were poignant and powerful symbols of the importance of Anzac Day and the importance of remembrance.
This Anzac Day, as I stand on the Anzac Commemorative Site at Anzac Cove, I will no doubt be struck more than ever by all that was endured by the young men of our also young nation on that bleak morning of 25 April 1915.
It has been an enormous privilege to have participated in these important occasions and to appreciate the service of the men and women of our ADF – past and present – their sacrifices and the sacrifices of their families, what they have achieved and why it is that we must never forget.