Feature Image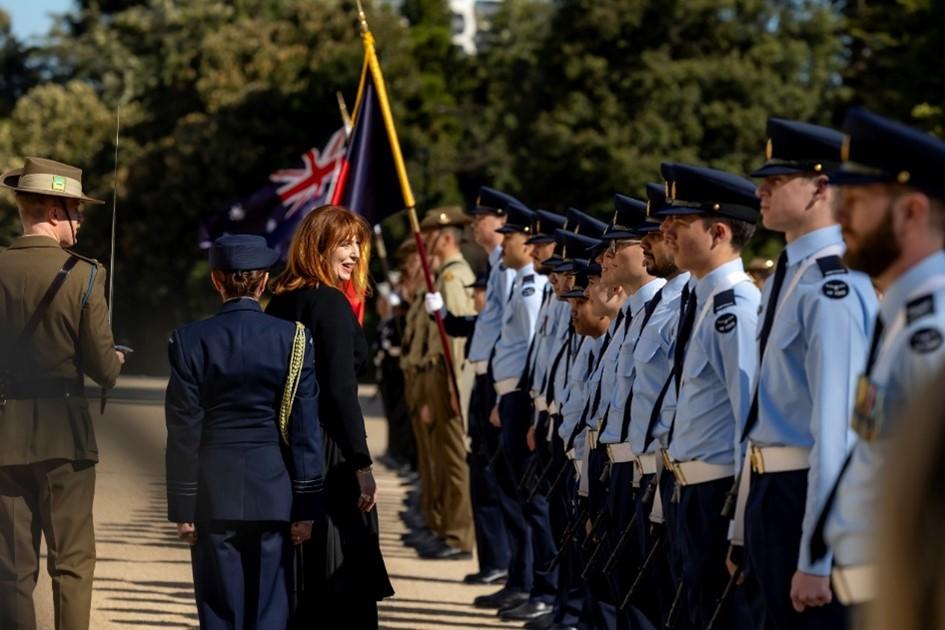 Introduction
Learn more about the Governor's ceremonial duties with the Australian Defence Force. 
Body
As part of the inauguration of the 30th Governor of Victoria, Her Excellency Professor the Honourable Margaret Gardner AC was invited to conduct an inspection of the ADF Royal Guard comprising the three Services at Government House.
This is a traditional part of the ceremony and followed the swearing-in that took place at Parliament House earlier in the day.
The Inspection of the Guard marked the arrival of the Governor at Government House for the first time as Head of State. The involvement of the ADF provided a unique opportunity to mark the occasion.
In her role as Head of State, the Governor will regularly engage with the Australian Defence Force (ADF) as part of the ceremonial duties of the role.
Inspecting the Guard
The inauguration involved a Royal Guard of Honour, comprising members of the Royal Australian Navy, the Australian Army and the Royal Australian Air Force from HMAS Cerberus, Simpson Barracks and RAAF Williams.
The Governor was accompanied by the three Senior Service Officers – Major General Andrew Bottrell AO, CSC and Bar, DSM, Air Commodore David Strong, and Commodore Greg Yorke AM CSC, RANR.
After receiving a Royal Salute, the Governor was invited by the Guard Commander to inspect the Guard before being introduced to the Royal Australian Navy Band.
The Governor then received a second Royal Salute, which concluded the Inspection.
History
The origins of the Inspection of the Guard are thought to have begun with King Charles II, who had resumed the throne in 1660 after the English Civil War and sought to inspect the troops to detect any disloyalty to the Crown amongst the ranks.
Today, the tradition is used to provide formal ceremonial compliments to dignitaries. It has commonly been a part of the inaugurations of Governors of Victoria throughout history.
A Royal Guard consists of 104 members in total with 32 from each Service, with the Royal Australian Navy appearing on the left, the Australian Army in the centre and the Royal Australian Air Force on the right hand side.
The ADF also participates in the Australia Day Official Flag-Raising Ceremony at Government House as well as other significant state events, such as ANZAC Day and Remembrance Day.
Watch
Watch a video of the arrival of the new Governor at Government House and the Inspection of the Guard below.
You can also watch the inauguration ceremony at Parliament House.